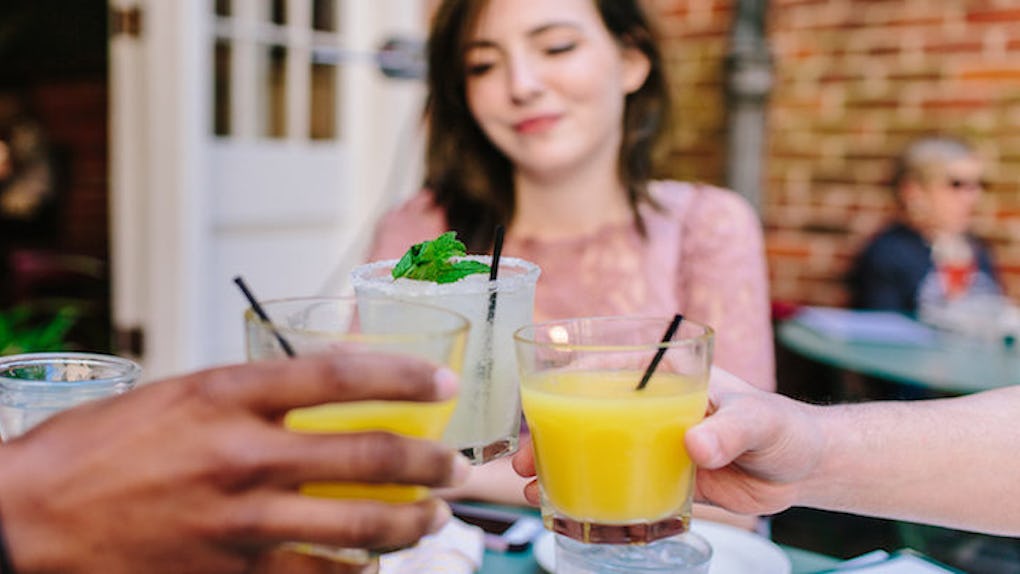 Kristen Currette
How To Master The Art of Day Partying On A Sunday Funday
Ah, Sunday.
With Saturday now a distant memory, it's our last day to stave off the Monday blues. And the only way to pump up the weekend vibe is to turn up the FUN and make it a Sunday Funday!
How can you take an average Sunday and make it one for the record books?
Easy! Have a day party.
While it may sound simple enough, day partying is truly an art. And day partying on a Sunday Funday is the finest art form of all. Unlike your run-of-the-mill office happy hour or an average summer Friday, it remains in a league of its own.
The ingredients for an optimal Sunday Funday include a sense of adventure, a penchant for making memories and some careful planning. You can't just order a Bloody Mary at a hip brunch spot and call it a day.
But don't be intimidated, my friend. After consulting myriad experts and conducting countless hours of research, we have created the ultimate guide for mastering the art of day partying on a Sunday Funday. After all, you are young and alive. It is time to #SeizeTheDaytime.
So, if you want to make your next Sunday the best one ever, then check out our handy guide. And may vodka forever be in your favor.
Form your #squad.
As anyone in the know will tell you, where there is a day party, there is the squad. And the most successful Sunday Fundays all begin with the same fundamental ingredient: a great group of friends to try new things with.
In order to have the best time, you must choose your group wisely. That means abiding by the cardinal rule of day partying: Make sure all your friends are 100 percent down for the day.
If you pester or beg anyone to partake in your Sunday adventures, then you're basically setting yourself up to fail. This is a day for making amazing memories and being outside. There's no time for drama.
Get enough sleep the night before.
To make the most of your Sunday, you need to rest up on Saturday.
While dancing until the wee hours of the morning might seem like a good idea at 11:30 the night before, there's no way you're going to be game for an epic Sunday if you stayed up until 3 am binging on your favorite show.
Use your Saturday to catch up on your gym routine or to finally do that deep conditioning treatment you've been putting off. When you wake up on Sunday, you'll be bright-eyed and bushy-tailed, ready to seize the day.
Remember to eat.
When all is said and done, you should plan your day around three essential components: good food, great people and some new and interesting cocktails. Since you've already assembled the #squad, you must now direct your attention toward the food part of the equation.
If you opt to eat out, do your research. The ideal Sunday Funday restaurant will offer an extensive (though not excessively so) menu with a variety of options.
If you go the homemade route, prepare an assortment of delectable treats that include sweet and savory options.
Spontaneity first.
Though Sunday Fundays usually benefit from spontaneous fun, you'll make the most of your day if you create an overall plan beforehand. After all, the last thing anyone wants to do on a Sunday is serious thinking.
To set yourself up for success, you need to strike a balance between planning ahead and not getting too wrapped up in the nitty-gritty details. Part of what makes Sunday Funday so awesome is ~going with the flow~.
Don't be afraid to ditch the rooftop pregame in favor of an impromptu game of volleyball in the park. And if you want to leave brunch early to dance at a last-minute rooftop party, then do it. These are the kinds of decisions that make for a memorable Sunday Funday.
HYDRATE, HYDRATE, HYDRATE!
While cocktails are definitely the star of any Sunday Funday, you must never forget the importance of another liquid: WATER.
To keep your energy level up throughout the day, have plenty of water before you head out and make sure you down a big glass of H2O after every drink. You don't want to find yourself wiped out at 2 pm from sitting out in the sun for too long.
A Sunday Funday pro has to keep his or her ducks in a row when day partying. This means being responsible.
Don't make the day just about the chill.
Don't get me wrong, a chill Sunday is awesome. But that doesn't mean you should exclusively look for low-key activities every time it rolls around.
It's the last day of the weekend, so you need to make it count. If you got enough sleep (see above!), then you should be poised to conquer a Sunday Funday like no other. Plus, the spring and summer are made for exciting Sunday Fundays.
Don't let life pass you by. Now is as good a time as ever to plan a Sunday for you and your friends to turn it up, dance and make memories.
Now go enjoy yourself! Day party responsibly and live your best life.