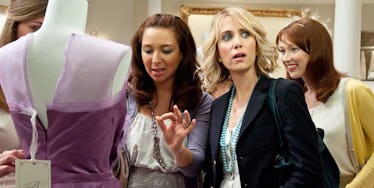 5 Bridesmaid Hacks That'll Both Save You Money And Keep You Sane
Universal Pictures/REX/Shutterstock
The feeling that flows through your body when your best friend asks you to be a bridesmaid is hard to describe.
As you dance in excitement to help her get ready for her big day, you realize being a bridesmaid will require your time and financial commitment.
On average, most bridesmaids spend $1,695. As Wendy Williams has said, "I have the receipts."
Do you remember Annie Walker's stressful journey in the 2011 hit film "Bridesmaids"? If that movie doesn't prove to you being a bridesmaid is about more than wearing pastel-colored dresses and drinking champagne with a group of your friends, it's time to accept reality.
Whether you're trying to figure out how to wing it on a budget or are curious and want to get prepared before you take on the responsibility one day, here are tips and tricks to help you be the best bridesmaid you can be.
1. Work on bridesmaid party invitations.
There are stores specifically created for women hosting bridesmaid parties. These stores are usually on the expensive side, and may not be the best route if you're watching your money.
Most of the best deals on greeting cards are online. You can even get free sample kits to check out the quality of cards before you officially buy.
2. All you need is wine wipes.
Being a bridesmaid means dealing with the booze, and you will need Olivia Pope-like wine glasses to help all of you maintain your sanity.
While Olivia pulls it off and still looks fabulous, in our reality, wine wipes will remove red wine from your mouth and teeth so you can avoid embarrassing moments.
3. Send emails correctly.
If you think your incoming emails are difficult to manage at work, get ready for a reality check: Being a bridesmaid means staying glued to your inbox. I recommend you register for a free Gmail email account specifically for the upcoming wedding.
One way to organize emails is to set colored emails for each bridesmaid. I know what you're thinking: What's the point?
But when you receive over 200 emails in a given week about the engagement party and updates on bridesmaid's dresses, you will thank me.
Gmail accounts also have a way for you to mute email conversations. It won't delete your messages, but once an email comes in, it will save it in an archived folder.
4. Get your group calendars ready.
It is likely a few of the other bridesmaids live in different time zones or cities. So, figuring out multiple key dates can get hectic.
Doodle is a free service that acts as a scheduling tool, and it can help you successfully plan meetings, lunches and bridesmaid fittings.
5. Manage your money wisely.
Most of your budget will be consumed by group dinners, orders for bridesmaid's dresses and reserving hotels for the big day. If you think you know all there is to know about managing your finances, being a bridesmaid will teach you a lesson or two.
With the help of Venmo, you can kindly request money securely without embarrassing anyone in the group. If you have the money for one of the bridesmaid's expenses, cover the bill and make sure to send the person a Venmo request in order to get your money back.
It's a nice way to remind someone what she owes you without being a nag.
Congratulations! You are officially a bridesmaid, and it can be bittersweet.
As your bridesmaid group messages go off and you're close to passing out because of the overwhelming responsibility of it all, have no fear: After you make use of these tips, your best friend's special day will arrive, and she will be thankful to have a friend like you who kept it classy and helped make her wedding one everyone will remember for a lifetime.