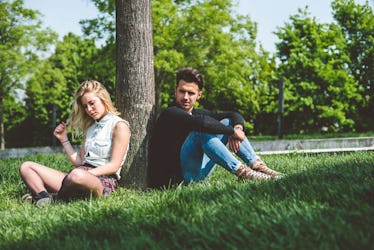 How Supporting Social-Action-Minded Businesses Will Make The World A Much Better Place
Three years ago, amidst my quarter-life crisis, I walked out of my comfort zone and my fancy Hollywood office and moved into the trunk of my car.
I was wearing a pair of smelly TOMS shoes and drinking coffee made by a tiny startup called Brown Water Coffee, which encouraged people to "drink Brown Water, so others don't have to."
Every bag the company sold allowed an investment in a clean water project in a developing community. Just like Ricky Padilla, founder of Brown Water Coffee, whom I now call my friend, I wanted to follow my dream. In my dreams, making it in entertainment would provide me with the outlet to make the world a better place.
I ordered a bag of coffee from Ricky and a piece of that purchase went toward building a well in Ethiopia. When I got that bag, there was a note in it that I will never discard: "Your project looks really cool; can't wait to see what you guys can make." I showed everyone.
When I started fundraising for our series at Wayward Nation, Ricky devoted his entire website to helping us get our seed -- and we did. A few months later, we met Ricky at his home in Denver.
Over the past few years, there has been an explosion of new businesses proudly wearing the moniker, "social entrepreneur."
A few years before this explosion, Blake Mycoskie, founder of TOMS, changed entrepreneurism forever with a simple and brilliant idea: People will pay more to be able to tell their friends they are helping to make the world a better place.
TOMS shoes became an international sensation, and everyone with the desire to make a difference decided to give it a shot.
A friend recently complimented my bag, which helped clean the ocean, made by Brian Linton at United By Blue, and I returned the compliment about his bag, made by Stone + Cloth, which helped pay for a Tanzanian child to go to school.
Neither of us knew about each other's bags; we just liked them, but we both liked bragging about the fact that both items were helping the world.
People love quality products, as it allows them to feel like a small piece of a big solution. The debate over whether or not the motivator for being a pro-social consumer is altruistic or self-indulgent is almost as old as the movement itself, but I aim to offer a completely different opinion.
Through my experiences with Ricky Padilla and Brown Water Coffee, I have the best reason to pay the extra couple bucks; it's about the movement itself and the people who devote their lives to it.
Blake Mycoskie of TOMS published a book in 2011 called, "Start Something That Matters." For social entrepreneurs, it became a bible. It played a big part in starting the movement.
Today, a couple of years later, after countless well-meaning young people got in over their heads on these projects to make the world a better place, it's no longer the message we need to hear. The message that matters is to finish what you start.
After working themselves to death, social entrepreneurs need your business in a big way. If we all decide to make our next purchases from a social entrepreneur, no matter whether it's coffee from Ricky or a bag from United By Blue, we would make the first wave of this new business model a success.
The floodgates would open, and that big, meaningful change we have all really been waiting for would actually come.
Photo Courtesy: Toms