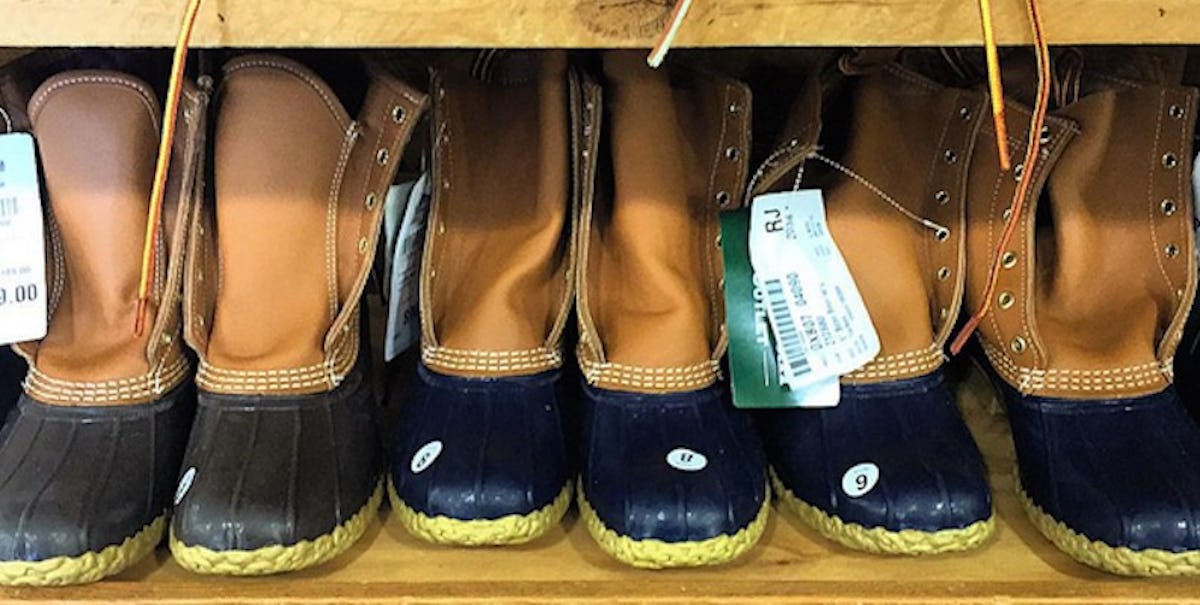 Order Your L.L. Bean Boots Now Or You Could Be Waiting Until Summer
Every season brings with it an assortment of trends, some new and some old.
When the air gets crisp, neurotransmitters in a Northerner's brain signal the reemergence of duck boot season and the onset of panic to claim a pair of the handmade L.L. Bean bestseller.
It's a panic that's gotten even more alarming over the past several years, as sales have skyrocketed since 2009 when duck boots became more about fashion than slugging through inclement weather conditions.
According to Bloomberg, brands Sorel and Canada Goose, known for snow boots and winter coats respectively, also saw a major incline in sales that year.
Last holiday season, L.L. Bean nearly crumbled under the high demand for its most popular boot, with 100,000 back ordered pairs.
As a result, the Maine-based shoemaker has hired 100-plus new boot makers, invested in a million-dollar machine specifically used to create the boot's rubber sole and added on a third shift to increase daily productivity.
The privately-held retail company employs over 500 workers to make the branded duck boots by hand.
Mac McKeever, a spokesman for L.L. Bean, told Bloomberg,
We're making them literally as fast as we can. It's not something we can just stamp out.
Apparently, "as fast as [they] can" isn't fast enough, considering certain sizes and colors of the duck boot were already on back order as of September.
If this year's winter proves harsher than the last, L.L. Bean could be in it for the long haul. Last winter, the company didn't clear its backlog until July 2015, closing sales at around 450,000 pairs of boots.
Citations: Why Are 100,000 People On A Waiting List To Buy Duck Boots From L.L. Bean? (Consumerist), Why Can't L.L. Bean Keep the Darn Duck Boots in Stock? (Bloomberg Business)