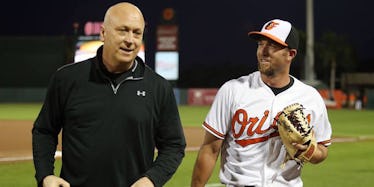 3 People, 3 Places And 5 Things That Make Baltimore Charm City
Throughout the past few months, Baltimore has been negatively cast across headlines for violent riots, a record-high 43 reported homicides in May after 40 years and police brutality during the arrest of Freddie Gray.
With violence and crime overshadowing Baltimore during the tumultuous time, an optimist must believe the city will bounce back to its once alluring state, and welcome natives and visitors alike to its historical streets.
There are many things people don't know about Baltimore, which make it one of the most unique, quirkiest and most beautiful places I've ever lived.
I can say that after 18 years of growing up here and a bit of time being away, I appreciate Baltimore now more than ever.
We are a city of four beautiful seasons, crabs, "hons," Natty Bohs and one of the weirdest accents in the country.
We are a once blue-collar city and a port that was "the commercial gateway to an expanding nation" from as early as the 17th century.
Baltimore is a city where the quirkiest of artists feel at home.
If you grew up in Baltimore, you've learned to call adults by their first names with a Miss or Mister in front. We all have a Mister Joe, a Miss Julie or a Mister Bob in our lives.
You realize when you leave Baltimore, you have to reevaluate your pronunciation of water from "wooder."
You embody the toughness of the Northeast, but you have adopted the manners and politeness of the South.
You've probably partied at the Power Plant, shopped vintage or bought beedis from Fell's Point.
Every time you sing that national song before a baseball game, you give credit to Baltimore for the inspiration.
When Francis Scott Key watched the American flag flying high above Fort McHenry after the Battle of Baltimore during the War of 1812, he wrote the famous American anthem.
We aren't just "The Wire," David Hasselhoff or a city marked by violence. We are better than that; we have more to offer than a jaded reputation.
Here's what makes Baltimore so great, even in times of struggle:<
People
1. The quirky artists who mold genres
Perhaps no one really wanted to see the drag queen Divine eat that dog sh*t in "Pink Flamingos," but you got to give it to John Waters for being innovative in capturing the quirkiest of Baltimore's peoples.
From drugs to abortions to religion to the slightly more tame "Hairspray," John Waters really set Baltimore up to be a place where mainstream America didn't and doesn't exist, and I applaud him.
To this day, from the art on the walls at the local bar to the craft brewing style, we don't do anything normal.
Speaking of drinking, there's also a more recent Waters (not of relation to John).
Derek Waters brought the unlikely drinking and history combo together to make "Drunk History," a web series turned Comedy Central hit. Edgar Allan Poe and Abe Lincoln will never be the same.
Rebecca Alban Hoffberger founded the American Visionary Arts Museum, America's official museum for "outsider art." And don't forget the artists of Artscape, who help create the country's largest free arts festival.
We have quirky, relevant artists.
2. The people who give back
Yes, we have a serious poverty problem in Baltimore. Luckily, there is a wealth of organizations and people who continue to bring hope to the community.
We pick up for our people. Even in the midst of the recent riots, it wouldn't be Baltimore without those people who came out hours later to clean up the streets.
When I was growing up, there was Bea Gaddy, known as the Mother Teresa of Baltimore, who was the epitome of what it means to give back.
I remember hearing stories of her famous Thanksgiving meal. Legend has it that with a 50-cent lottery ticket, she won $290 and bought enough food to feed 39 of her neighbors on Thanksgiving Day.
From then on, her community kitchen was born. Her daughter continues to run the Bea Gaddy Family Center to this day.
Now there's Talib Horne, who works with community partners to promote business and redevelop areas that need centers for underprivileged people.
He serves as executive director for POWER House. POWER is an acronym for Providing, Opportunities, to Work, Expand, and Rise.
We are a city that cares.
3. The founders who change industries
For people who regularly work out or are involved with sports, they know cotton just doesn't cut it! You're left with a heavy shirt soaked with your own sweat, and it's smelly.
Well, thank God Kevin Plank who figured out a way to fix this with Under Armour.
Now, Under Armour supplies sporting wear, accessories and footwear to some of the world's top sporting institutions, athletes and normal folks like us.
Then there are the brothers John and Scott Ferber, who founded Advertising.com and Videology. These companies changed the digital advertising world through their technologies.
What's the best is that all three of these founders decided to keep their headquarters in Baltimore (though they have offices around the world).
Places
1. Crab houses
We wouldn't be Baltimoreans without our love of crabs. And, don't you dare try to eat one with a knife and fork! Get that mallet, and get to work at any of the best crab houses.
The best ones are typically the most unassuming ones, and they aren't necessarily in the city.
I always like to head to G&M Restaurant on the way to the Baltimore-Washington International Airport for the best crab cakes, or Ocean Pride in Lutherville (Baltimore County) for a full-on Old Bay seasoned feast.
2. Baltimore School for the Arts
Recently highlighted on PBS NewsHour, this school is a beacon and a ray of hope for many Baltimore kids who know they need to express themselves but don't have an outlet.
Not only does this school provide free after-school arts education to 700 Baltimore city children in grades 2 through 8, but it's also one of the top five arts high schools in the country.
A utopia for peace, the arts and discipline in downtown Baltimore, BSA has boasted some amazing alumni, like actors Jada Pinkett Smith, Josh Charles, Broadway star Tracie Thoms and designer Christian Siriano.
3. Lexington Market
Lexington Market, the world's longest-running continuous market, is a one-stop shop for produce, fish, meats, purses, socks, peanuts and everything in between.
It brings out all types of people, from tourists to the local hons to the street merchants. Everyone is mingling, sometimes shouting, and always eating.
On Fridays and Saturdays, jazz musicians and rock bands sometimes play at lunch.
We got real places, hon.
Things
1. Term of endearment
Practice after me. "Hey, hon. How you doing, hon?" Got it? Good. You can now enter Baltimore.
2. Our local beer can be bought for a buck or two It may taste like piss, but it's a dollar (at a bar!) Take that, Manhattan. National Bohemian (known in Baltimore as Natty Boh) is a staple of any house party. And until recently, you could only buy it in a can. True class.
3. All the STEM jobs
Almost a quarter of jobs in Baltimore are in the fields of science, tech, engineering and math.
So, as much as we think of ourselves as a blue collar city, we actually are pretty dorky, and um, smart.
This is mostly due to Johns Hopkins University and Hospital as well as the Space Telescope Science Institute.
4. Duckpin bowling
You aren't from Baltimore if you don't know what duckpin bowling is. It takes regular bowling and makes it way more fun because who needs those big balls anyway?
We use a ball slightly larger than a softball, with none of those silly finger holes to get stuck in.
You also get three tries for a strike instead of two! It started in Baltimore in the early 1900s and has continued ever since.
5. Our slogans
I've never been sure if our slogans were ironic or just hopeful. Over the years our slogans have included: BELIEVE, The City that Reads, The Greatest City in America and Charm City. Charm City is certainly one that has stood the test of time.
We have a wealth of intelligence, science, philanthropy, culture, history and arts that live on and thrive in Baltimore. Come on down for a visit, hon!