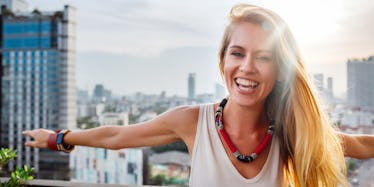 4 Things, 7 Places And 4 People That Make Aspen A Winter Wonderland
Stocksy
I was never one of those people who possessed the innate desire to move to a mountain town after college.
But going to school in Colorado, I knew plenty of people who had their hearts set on living the ski bum life, at least for a little while.
I would hear my friends and peers discuss their plans to move to Jackson Hole, Telluride or Crested Butte, and I would internally scoff a little.
Ski towns are great to visit, but to live in one? No way. Too small. I'd go stir crazy. I'd always loved to ski, but I wasn't one of those die-hard kinds of skiers.
I didn't love the sport enough to base my location and my lifestyle around it.
Instead I craved culture, diversity and a bit of commotion. So, I moved to Manhattan and spent the next three years in love (well, mostly in love) with New York City.
But then, something happened: An internal shift so small and subconscious I didn't notice it until I got a job offer in Aspen, Colorado and found myself nodding into the phone, accepting the position.
I was as sure as I'd ever been that this was the right move.
As for the reasons why I decided to leave New York, that's a different story.
But, the magical draw of Aspen is its own narrative.
Here are four things, seven places and four people that make Aspen the perfect mountain town:
Things.
Mountains: Without its entrancing snowcapped mountains, Aspen wouldn't be Aspen. Summer or winter, rain or shine, the mountains are the source of Aspen's magic and beauty.
The air in the mountains is fresh, and the sky is big. From November to April, most of the town can be found skiing laps on Ajax or hiking up the powdery Highlands Bowl.
The springtime can be slushy, but come summer, the mountains are home to some of the most spectacularly beautiful hiking trails I've ever experienced: American Lake, Cathedral Lake, Lost Man, the Ute, the list goes on.
And in September, when the yellow Aspen trees bloom, the Rocky Mountains turn a bright, burning gold.
Culture: Unlike most mountain towns, in Aspen, skiing and hiking aren't the be-all end-all.
Aspen is a cultural hub, small in size but not in scale. People come from all over the world to hear speakers like Hillary Clinton and Deepak Chopra speak at the Aspen Institute.
Aspen is home to extraordinary museums and galleries that showcase some of the most coveted exhibits in the country.
This heavy dose of culture and relevancy in a tiny ski town is what makes Aspen so unique and so livable.
You get the benefits of living in the mountains without feeling disconnected from the rest of the world.
Deals: Aspen has a reputation for being exceptionally expensive, and that's for a reason. If you're a millionaire coming to Aspen on vacation, there are plenty of ways to spend your money.
But, I've been pleasantly surprised to find that Aspen is more than affordable for locals.
The Aspen Housing Authority offers employee housing, so if you work in Pitkin County, you're eligible to live in one of the town's inexpensive apartment complexes.
I have friends who spend as little as $500 a month on rent. During off-season, many restaurants in town offer everything on the menu at half-price.
Certain salons give locals 50 percent off on all treatments year-round.
Après-Ski: Après ski is one of the highlights of the Aspen winter. It's an excuse to start drinking at 4 pm without feeling worthless because you've just come off the mountain from a full day of skiing.
Après is part of the Aspen culture, embraced by all local bars and restaurants as an important time of day.
There's nothing like taking off your ski boots and sipping a hot toddy in front of the fire. 
Places.
Belly Up: Right in the center of town, Belly Up is the ideal concert venue. It feels open but intimate with two long bars lining the stage area, and plenty of space to dance.
There are shows several nights a week and the calendar is consistently impressive, featuring a variety of artists for all tastes, from Lake Street Dive to Lord Huron to Thievery Corporation.
Highland Bowl: Hiking the bowl with your skis strapped to your back is no picnic, but it's worth it 45 minutes later when you reach the top.
The view from Highland Peak on a bluebird powder day is unmatched, and so is the pillow-soft snow.
Matsuhisa: Simply put, this place has the best sushi on earth. Everything that comes out of the Matsu kitchen tastes like it's been concocted by a Japanese god. It's expensive, but worth every penny.
Lost Man Lake: This is a stunning hike halfway up Independence Pass. It's a giant loop, and the main attraction is a pristine blue lake in the middle of what looks like a scene from Jurassic Park. The view is indescribable.
Cloud Nine Alpine Bistro: This place is literally cloud nine. Open only during ski season, Cloud Nine is a lunch spot tucked mid-mountain on Highlands with sweeping views of the valley.
It books up months in advance and there are only two reservations daily: the 12 pm and the 2 pm.
And, even though you'll want to stay forever, your reservation is capped at two hours, making your time there even more precious.
Waiters prance around, refilling your wine glass before you notice its empty and placing full bottles of Veuve on your table.
Fondue and raclette is served. Music blasts from the speakers and most guests spend the lunch dancing on chairs in their ski boots, spraying champagne in the air.
The Grey Lady: The Grey Lady is a bar and restaurant that originated in downtown New York City, and the owners recently opened a location in Aspen.
The highlight of the menu is the lobster roll. The lobsters are caught in Maine each morning and flown to Aspen the same day.
It's lobster meat so fresh, you can taste the salt water.
Wheeler Opera House: This is Aspen's community performance theater.
The Wheeler hosts a variety of cultural events like film festivals, comedy shows, concerts, festivals and lectures — everything from Oprah to Daniel Tosh to brass bands.
People.
Aspen socialites: There's no denying that people watching is fun, especially people watching amazingly dressed overly-Botoxed Aspen women with tiny dogs poking out of their Gucci handbags.
You'll forget about this group of Aspenites until you see one window-shopping outside Gorsuch in rabbit fur boots. Hey, someone has to buy all those $2,200 Moncler jackets.
Longtime locals: Down-to-earth locals balance one end of the wide spectrum of people in Aspen. They are the hardcore ones with duct tape on their ski pants, hiking the bowl three times a day.
They are the ones who came for the snow and stayed for the snow (and the white water rafting and the locally brewed beer).
Entrepreneurs/Professionals: Aspen is an entrepreneurial town, full of motivated professionals pursuing their goals. Because of its wealth, Aspen is a smart place to launch a niche business.
There are a number of successful companies and startups in the valley, from non-profits to microbreweries to tech firms.
Because there is so much happening in Aspen in terms of business and culture, there are meaningful jobs to be had, which means 20-somethings can enjoy the perks of living in a mountain town while still having "real" jobs.
Friends: I wouldn't be in Aspen if it weren't for my friends, and I think that's something that can be said of any place.
No matter how incredible a city's restaurants, museums and attractions are, the people are what grounds you and make every experience that much richer.
The rest stems from there.