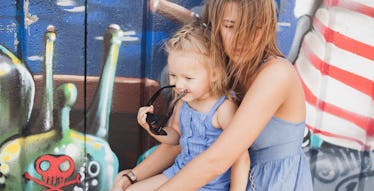 It's Hard Out There For A Wedding Guest: 4 Tips For Attending This Season
Stocksy
Oh, wedding season.
It's the joyous time of year when you have the privilege of attending weddings, sometimes for a bride and groom you have never even met, on every warm weather weekend (and holidays, too!).
Somewhere around age 26, the invitations started pouring in. At first, it was a joy. Celebrating love with free alcohol, filet mignon and a DJ for an all-night party? I'm in!
Fast forward two years and countless plane tickets, dress rental fiascos and awkward scenarios later, and, well, let's just say I'm a seasoned wedding attendee.
While these love-filled, celebratory, booze-drenched affairs can be a wonderful time to catch up with old friends, dance the night away and snap some fancy Instagram pics with your significant other, weddings can also be filled with weird interactions, marital social pressure and spending copious amounts of money.
In honor of this, I decided to put together a navigational guide to the most common awkward conundrums that arise during wedding season:
The Plus One
So, you've been dating long enough that your significant other gets a plus one (yay!), but not so long that you have actually met the couple.
As you watch the bride come down the aisle, all you can think is, "Please don't look in my direction.
This is pretty much the most important moment of your life. We've never met, but I have definitely stalked you on Instagram and accidentally liked your photo from 106 weeks ago."
At the reception, you somehow end up talking to the bride's mother at the bar, surrounded by the other plus ones who are all engaged and showing off their rings (yes, this really happened to me).
When said mother gets to you, she peers down her nose and asks, "And how do you know [insert bride's name]?"
This situation isn't as sticky as you think. On the one hand, yes, you were invited to a wedding where you don't actually know the couple that probably spent upwards of $200 for you to be there.
Just remember you were invited. You are not a wedding crasher. Best-case scenario, you face these situations with your date by your side so you have instant clarification.
However, in the event you are on your own and accidentally end up next to the bride at the buffet, just try to imagine what you would want to hear if you were in her Something Blue Manolos.
Tell her/the mother of the groom/the Maid of Honor that the wedding is beautiful/you love the dress/you are so happy to have been invited.
At the end of the day, these people just want to know you are having a good time and all the planning they obsessed over for the last 18 months is a success. Convey that, and you're golden.
Member Of The Wedding Party
Your best friend/cousin/childhood friend you barely talk to/sorority sister/fraternity is getting married, and he or she wants you to be a groomsman or bridesmaid.
After the feeling of elation at being included in this special time wears off, the reality of the obligation sets in.
Engagement parties, bridal showers, bachelor and bachelorette parties, the rehearsal dinner and the gifts that accompany these soirees can get excessively expensive very quickly.
For out-of-town bridesmaids and groomsmen, you are looking at potentially five separate round-trip tickets with the accompanying outfits, gifts and hotels. Does anyone ever say no? What do you do if you want to be part of it but can't stomach spending at least $1,500?
This is a complicated situation. In an ideal world, the brides or grooms would reach out to the wedding parties and let them know the most important part is having you stand by his or her side on his or her wedding day and everything beyond that is just icing on the cake.
The reality is you will probably feel obligated to attend at least the bachelor/bachelorette party and the shower (for bridesmaids).
When you receive that cute "ask gift" or drunken question asking you to be in the bridal party (one of my best friends gave me a rose "The Bachelor" style and asked me to be her MOH many tequila shots into the evening), it's best to be prepared with an answer.
I recommend saying something along the lines of, "I am so honored you want me to be a part of this special time in your lives."
Then, it gets a little trickier. If budget is your concern, it's best to get it out in the open sooner rather than later: "I'm concerned about being able to afford being part of every event.
Will you be really disappointed if I can't make it to everything? I want you to have everything go the way you envisioned and don't want to detract from that experience if I can't attend."
At this point, you've made it clear you want the best for him/her and you want to be a part of it, but there won't be a shock if you RSVP "Not Attending" to an event.
You have provided the opportunity to retract the offer. Yes, it's still awkward, but it's way less awkward than opening another credit card and resenting your friend every time the monthly payment is due.
Marital Pressure
My least favorite part of attending weddings was constantly being asked variations of "Are you next?"
It put undue pressure on my now fiancé, and it made my single friends standing nearby feel uncomfortable, too.
I know people think they're just making conversation, but the bottom line is it's a weird thing to ask. It's also the best way to:
1. Ensure the couple gets in a fight about something neither of them even wanted to fight about.
2. Ensure one and/or both members of the couple hits the bar a little too hard.
3. Make fabulous single wedding guests standing in close proximity feel pressure for something they may not even want.
4. Make attending weddings less fun than it should be.
Rather than laughing uncomfortably and taking a big gulp of your cocktail, face the conversation head on. No need to explain yourself or start laying out a timeline or a list of reasons why you are waiting.
Think about it: This person has just asked when you plan to commit your life to someone. That's an awkward inquiry on his or her part, not yours.
Simply say you are happy and not in any rush. No explanations, no justifications and no opening for further discussion.
Attire Dilemmas
Recently, I debated describing the attire for my own wedding as "Garden Party Chic." My fiancé reminded me if I received that invitation as a guest, it would cause unnecessary stress and hours of online searches for the perfect "Garden Party Chic" dress.
This would likely result in spending three times as much money ordering dresses that didn't quite work before ending up on a rental site.
A friend of mine recently faced one of the issues above (The Plus One) and ordered a rental dress that fit like a sack of potatoes.
Thankfully, she was able to find a better option last minute, but there was a period of time where it was a real concern. Let's be honest: You can't be a Plus One in a sack of potatoes.
When you do find a dress or suit you love, you can't really pull off wearing it to consecutive events unless you actively avoid being photographed all night.
That means separate formal outfits must be acquired, making quite a dent in your bank account.
If you're lucky, at the bottom of the invitation there will be a line of text regarding the appropriate attire, and a quick Google search can flesh out what that means (in case you don't have the prerequisite knowledge to quickly surmise what is expected for semi-formal versus white tie).
If the invitation provides no indication, feel free to reach out to the bride or groom and ask.
They have undoubtedly thought about what they expect the overall level of formality to be for their nuptials, and they will not find this odd or inappropriate.
Okay, so you have figured out what you need and now you get to spend money on a dress or tux you will likely never wear again.
First stop: rentals. Men have been renting suits and tuxes for ages. For women, the rental market has finally caught up, and there are now several dress rental stores available, some even specializing in weddings.
These are particularly great for black tie affairs since gowns are extra pricey, and unless you are a frequent gala attendee, you probably won't wear your gown very frequently.
Make sure to order the dress with a few days cushion before the wedding, and ask to talk to someone before ordering about fit and measurements.
Get a paper or cloth tape measure and learn your measurements. Sizing is basically worthless in the current world of vanity sizing, especially when dabbling with European and couture designers.
Maybe you have already spent enough on the shower and plane tickets, and the thought of coughing up another few hundred dollars is truly unappealing or simply not feasible.
Ladies, reach out to your friends. About a year into the world of wedding attendance, they are sure to have purchased their own small collection of dresses.
My best friend and I live in separate cities and have an ongoing exchange of dresses going on this wedding season.
Simply wear, dry clean and return. It's basically a free wedding dress rental, minus the cost of postage.
Don't get me wrong; I love weddings more than the average person. I love them so much, I write about them for a living.
Weddings are beautiful, fun, sentimental parties. However, after attending my fair share, I also understand the vast amount of new social norms weddings introduce into our daily lives.
At the end of the day, unless you spill red wine on the bride's white dress or show up halfway through the ceremony, you will be just fine. So go enjoy that open bar!