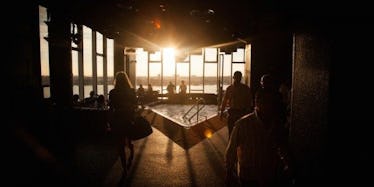 We Don't Fit Your Stereotype: 6 Reasons Why I'm Proud To Be From New Jersey
Stock
Between poorly portrayed reality television, a devastating superstorm and a negative connotation we just can't seem to shake, we New Jersey natives have taken a lot of slack over the past decade.
To be completely honest, I used to be hesitant to say I'm from Jersey. During my time in college when I was studying abroad in Sydney, I would frequently get asked where I was from.
At this point, I'd either respond with a "just an hour outside of New York City," or a simple, "New York." Sometimes I'd have an admission of honesty with a quick and defensive, "it's actually really nice," or "it's nothing like 'Jersey Shore,' though, I promise."
Why did I do this? I'll admit, it wasn't just because New York is a more recognizable place. It wasn't even because I was ashamed of where I'm from. It was because I was embarrassed of the image of New Jersey that was being projected to the entire world by the media.
Amidst all the negativity, there's one thing that's never really discussed. Growing up in New Jersey means being raised in a specific way that no other place can replicate. There are certain things that happen here in Jersey that instill greatness in each and every one of its residents.
After all, it's one of the most densely populated states in the entire country for a reason.
We're resilient.
Nature decided to throw a deadly, destructive storm our way a few years back. Hurricane Sandy took away power from a couple million households, destroyed entire homes and even took lives.
It plowed through towns, demolishing thriving economies and turning our beloved shore towns into pure carnage. But the one thing Sandy just couldn't crack was our spirit. We rebuilt, replenished and got right back up on our feet the true Jersey way.
We're independent.
Growing up sandwiched between two major cities, we Jersey kids know how to get places on our own. We're no strangers to commuting alone by bus or train to get to New York City or Philadelphia.
We've learned to tune out the crazies, entertain ourselves on long trips and navigate all of the intricate highways and routes that run through our fine state.
We appreciate the arts.
I have yet to meet one person from Jersey who doesn't enjoy a good concert, sporting event or show.
Home to places like MetLife Stadium, Prudential Center, PNC Bank Arts Center, Paper Mill Playhouse, Starland Ballroom and so on, we never pass up an opportunity to indulge in the arts (especially when our favorite natives like Springsteen and Bon Jovi are in town).
We're patient.
Have you ever driven down Route 18 South in the summertime? We have; yet, we continue to make the daunting drive every weekend.
We find the bumper-to-bumper traffic entirely worth it when it leads to the shore towns that are unparalleled to any other place in the world.
We're versatile.
One of the greatest things about New Jersey is that we get to experience all four seasons the way they were meant to be: snowy winters, crisp autumns, hot summers and pleasant springs.
We know how to be both snow bunnies and beach bums. We have no problem migrating to different parts of our state based on the season. Anything we could possibly want to do, we can find within the confines of our own borders.
We have high standards.
You know those people who get their bagels from Starbucks and their pizza from Domino's? That's an utter sin in our book.
We do food right and we will not have it any other way. Don't even get us started on our produce. Sprinkle a little salt and pepper on a sliced Jersey tomato or a sweet ear of corn, and you'll never want to eat anything else again. There's a reason we're called the Garden State.
These qualities have been instilled into our genetic makeup and they're part of what makes us successful for the rest of our lives, whether we choose to live in Jersey forever or ultimately move somewhere else. I couldn't be prouder of our state, and I could care less whether you think it's the armpit of America.
I'll always be a Jersey girl.
Photo Credit: Getty Images