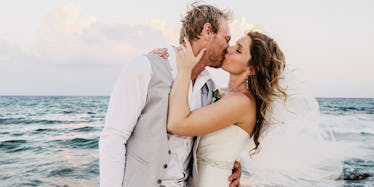 4 Differences Between Moving To NYC In Your Early Vs. Late 20s
Stocksy
Age is but a number, they say, and boy did I live for that quote.
However, I think my mother wasn't too fond of me dating a 25-year-old man at the innocent age of 18.
He was also the same man I moved to NYC for at the foolish age of 21. After watching late-night reruns of "Sex and the City" and numerous trips visiting my cousin in Manhattan, I believed in the cliché life TV portrayed of the city.
So, in true Carrie Bradshaw fashion, I followed him and moved to NYC in hopes of living my happily-ever-after. Well, long story short, that didn't happen. (Plot twist: Weird and funny how life goes, I introduced him to his wife. I'm a pretty awesome ex!)
Anyway, my last semester in college, l moved to NYC for my "internship" (so everyone believed). I was only supposed to be in this dreadful city for four months. Fast-forward five and a half years later: I was burned out.
I was over chasing the perfect love story, the "Mister Big," the cosmos, the limelight and the all-night dance parties. I did it for five years straight. New York City literally chewed me up and spit me out.
So, what did I do? I left. I moved back to my hometown in Virginia (yeehaw, y'all!). It was the best/worst decision ever.
For my mental and physical health, it helped me not to drink every night and focus on exercise, eat healthier, spend time with family and catch up with friends.
But, I lasted a whole four months. Being a country girl was no longer in my blood; I needed life. So, I moved back.
Why the move back? Well, for one, there was a career opportunity. I can truly say I moved for me this time and it never felt so good.
So, since I have experienced both, here are the main four differences of moving to NYC in your early 20s versus your late 20s.
1. Housing
I won't lie, I would love to live in Manhattan again, but the thought of paying thousands for a box is just straight up stupid. When I did my first apartment hunt, I was 21 and so adamant about living in Manhattan.
I had my dream apartment with semi-normal roommates; I was living in Hell's Kitchen just as it was "up and coming." It was the best four years of my life!
This time around, I wanted space within reasonable pricing, that was quiet and had somewhere to park my car. So, where did my late 20s lead me? To a completely renovated apartment in Greenpoint, Brooklyn. I couldn't be any happier.
2. Career
When I first landed an awesome opportunity interning for the best event company in the industry, and starred in my boss' television show, I loved it. I loved the glamour, the name, the whole shebang.
Did it pay my rent? Heck no! But, I was a 21-year-old girl partying every night in Meatpacking District. Since I got to dress up and drink for free, all my money went to rent.
When I left NYC back in August, I needed a break from it all. So, I took time to get away from my career since I felt like every opportunity didn't pay enough for me to survive. Four months later, a friend referred me and I didn't settle for less.
I officially love my career, my company and feeling financially stable. As cheesy as it sounds, everything truly happens for a reason.
3. Friends
When you are 21 and new to the city, all you want to do is meet a sh*tload of people and never feel alone in the most crowded city in the country.
So you meet your "BFF" one drunken night at Avenue, and bang: You have a new best friend (for the next six months).
Sadly, the majority of the true friends I've met here have left for the West Coast or gone and gotten married.
I now have a close circle of no more than four to five people and life is pretty amazing. It's about quality over quantity.
4. Self-awareness
It's pretty comical to look back at 21-year-old me and my self-confidence level. I had a very shallow outlook on life. Again, I was obsessed with the glamour, parties, beautiful doctors, lawyers and financial men. Ah, those were the days.
Now, in my late 20s, I have no time for bullsh*t. I get my work done, work out, eat well, go out to fancy places and pay my own way.
It's pretty awesome to stand on your own with no dependence on which promoter will cover your drinks for the night.
I know my worth and time, and it makes the NYC experience so much better and enjoyable. I go to Broadway shows, wine bars, boutique shopping and surround myself with authentic company.
These are the true pleasures of NYC living.