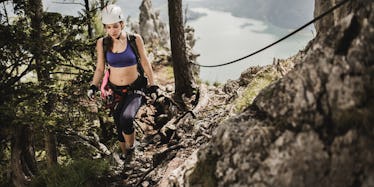 3 Reasons Why Traveling During The Winter Is Ideal For Everyone
Stocksy
There's something magical about traveling during the winter season with which summer vacations just can't compete.
However, treacherous storms threaten to make it difficult for travelers to get to their destinations, causing numerous flight delays and icy roads.
It is, once again, the chilliest time of the year for many parts of the world, and many people are opting to wait until the temperatures begin rising again before going on their next vacations.
So, how do we satisfy our desires to travel during the chilly months of January, February and March? Winter weather poses threats, and nobody wants to waste vacation days sitting at an airport waiting for a delayed flight or driving on potentially dangerous, snow-covered roads.
On the other hand, after reaching a desired destination and being bundled up just right, winter doesn't seem so bad. In fact, there's something almost beautiful and calming about winter travel, which many of us take for granted.
Let It Snow
There's a time for everything, and during the winter, 'tis the season for snow-covered, well, everything.
Waking up to a fresh blanket of snow on the street is the last thing the majority of people wish to experience when it isn't the holiday season.
In fact, sometimes, it may feel like snow falls every day of winter EXCEPT during the holiday season, which encourages many to despise it even more. So, why even bother traveling?
Snow has a unique way of transforming the world into a winter wonderland. Yes, a wonderland. Cold temperatures often hint that winter is here, but it can't quite produce the same effect of a blanket of fresh, glistening white snow.
Snow allows travelers to experience their destinations from a whole different perspective than those who go to the exact same places in the summer.
Sometimes, colder areas provide winter activities for people to partake in, such as outdoor ice skating, or an organized display of beautiful lights for everyone to enjoy while walking around at night.
Such experiences are often unavailable in the summer, so it's a treat to be able to take part in such opportunities by visiting these places in the winter. Not to mention, winter is a great opportunity to show off cute coats and winter accessories in those travel pictures!
Money Conscious
From a financial standpoint, traveling during the winter is a less expensive way to see the world.
More often than not, airlines, hotels and select tourist attractions will have lower rates in the first few months of the year because it isn't peak season. Saving money on a trip? Doesn't sound like a bad deal to me.
Rather than spending an extra hundred dollars for a hotel room for one night during peak season, it is possible for lower, off-season rates to allow travelers to spend approximately the same amount of money (maybe a little more) for two nights.
Maybe the extra money could go toward a dinner at a fancy restaurant, or a trip to a nearby museum. Whatever your fancy, winter traveling is full of deals and steals.
Traveling Is Traveling, No Matter the Season
Spring, summer, autumn, winter. No matter what time of the year it is, it's always a good time to go out and see the world.
Don't let the cold weather discourage your desire to travel, but rather, embrace it and look at it as a chance to see places in a different light.
The world is full of opportunities for adventure. Maybe it isn't exactly 80 degrees and sunny everywhere right now, but hey, cold weather traveling isn't so bad. With countless activities for both winter enthusiasts and warm weather lovers alike, there is something out there for everyone.