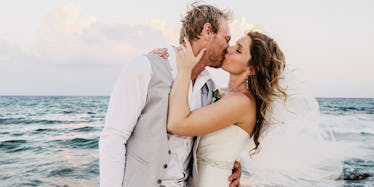 13 Reasons Why Life Would Be Better If You Were European This Summer
Stocksy
Sometimes, being a European in New York is fun.
People compliment your accent multiple times a day and you're the only one who really understands the World Cup. Obviously, you're classier than everyone you know.
At other times – namely the months of June, July and August – you just wish you were back in Europe.
They just get how to relax, you know? None of this hardworking BS and summer Fridays being a myth I haven't actually experienced.
When it gets hot in Europe, work becomes less important. Europeans are all about the siesta, the lemon granita and meals taken al fresco.
Here's why you know you wish you were European this summer.
1. Proximity to all of Europe.
You're never more than a 2-hour flight away from a dream destination. Infinity pools in the South of France, the charm of Capri, the best pizza of your life in Forte de Marmi and the most romantic place on earth, Venice. (I'm actually close to tears writing this.)
For Americans, these places are far away and a big ordeal, whereas for Europeans, they're an easy long weekend. Cancun versus the French Riviera? #WeWin
2. The Greek Islands.
This deserves its own post because there's nothing quite like it anywhere in the world. The food is insane, the beaches are gorgeous and the nightlife is amazing.
The sea is warm and clear and the natural beauty is something you just don't see in the States. My dad did his best to ruin it for us by falling off an ATV and smashing up his arm, but obviously we stayed and holidayed without him. And if you'd have seen Mykonos, you would have too.
3. Cheap flights.
The airline Easyjet is the young Millennials dream, where for less than $300 (return), you can go to any number of charming, pretty European islands or countries. There's also Ryanair, but I don't hate you, so I won't advise it.
4. Topless sunbathing.
Men rejoice and women in Sardinia just don't care and think this is totally normal. Women also rejoice, and say farewell to annoying tan lines.
5. Europeans know the beauty of doing nothing.
My summer holidays for the last five years have been spent in the most blissful way possible -- in Tel Aviv, Greece, Italy, France and so on. We did internships, but they were literally a week long and painless.
Yet, my American peers spent their summers in the most amazingly productive ways, climbing Mount Kilimanjaro, volunteering in Ghana and learning how to code. That's great, and your resume is better than mine. But God, life was good.
6. Everyone has an accent.
This works on several levels. Firstly, it's just so lovely to hear sexy Italian and French accents all day long. Secondly, by virtue of Americans being tourists in Europe, you're actually the one with an accent.
And everyone knows having an accent is just a hop, skip and a jump away from getting exactly what you want. Whatever that may be.
7. Appreciating the weather.
Because it's so rarely sunny in London, we make the absolute most of it when it is. As I write this, I'm staring out the office window in New York. The sun is shining and the city is happy and gorgeous and I'm inside, quite literally feeling my tan fade.
That just wouldn't happen at home. When the sun comes out, sleeves are rolled up, work is forgotten about and parks are suddenly full of people drinking Pimms. (As my Snapchatting friends love reminding me.)
8. Job Security.
Did you know it's very, very hard to get fired in France? Your employers need a detailed, specific reason, and even so, the courts often side with the employee. So what French person wouldn't just disappear to Juan Les Pins for three weeks if he faced no repercussions?
9. People look so chic.
Speaking of Juan, there are all those cute shops with white linen and crocheted dresses. And then you have Italy, the land of Dolce and Prada, where it's almost a law to look groomed at all times. And London, where street style is so varied that anything goes. In the summer, clothes get a little more daring and revealing, and Europe's the place to experience that. Also…
10. Obesity rates are way lower.
You know where you don't see fat people? Sardinia. So, these cute clothes are shown to maximum advantage.
You can walk around feeling body envy, rather than total repulsion at people -- like the woman I saw this morning, who was wearing a cardigan that was buttoned up wrong and about eight sizes too small. That sh*t just doesn't happen in Positano.
11. Exploring new things.
There's so much to see all over Europe, and summer is the perfect time to do it. The Sistine Chapel looks better in sunshine. Walking across the Rialto Bridge is definitely best enjoyed with a breeze in your hair, and the Acropolis… no, the Acropolis always sucks.
12. Incomparably cool music festivals.
There's Tomorrowland in Belgium, a fairytale-like festival where Avicii and David Guetta perform. Or you could head to one of the many Croatian music festivals, like Outlook or Hideout. And for an English experience, head to Glastonbury, where you'll see famous people trying to look like they're homeless.
13. More vacation time.
Twenty-two days vacation time is pretty standard in the UK. AND it's not frowned upon to actually use it. See you in Hvar.
Photo Courtesy: Tumblr