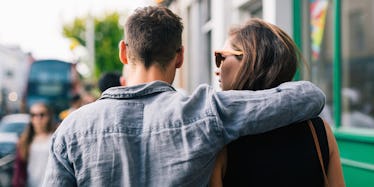 10 Magical European Cities You Need To Take In Before You Check Out
Let me begin by making a very clear and concise statement: Get your ass to Europe.
Do you realize how selfish you are being to yourself by not going? Not to mention, all of your friends and family who will have to endure the resentment you will carry for failing to visit Europe.
Now that we have that settled, you should definitely check out the following places while you're there:
1. Paris, France
Some well-cultured Euro-travelers will share thoughts on how Paris is entirely overrated. They'll tell you the Eiffel Tower is tiny and looks like a glorified hydro tower. And, they'll bring up the rough areas and the streets overcrowded with tourists.
But, what those people forget is Paris is so much more than that. Paris is the refined culture, the history and the overwhelming feeling of romance that floats throughout the air. It makes you feel as though you're glowing. Seriously, I've never seen so many people French-kissing in public.
There's nothing quite like picking up a baguette, cheese and plenty of wine, and having a picnic inside an ancient castle, under the Eiffel Tower or within one of Paris' many breathtaking parks.
2. Venice, Italy
I dream of getting lost once more along the green-watered canals and sophisticated bridges, which grant access to all the enchantment this city possesses.
It's easy to question whether your eyes are deceiving you as you look upon what can only be described as a priceless, three-dimensional oil painting in which you're able to wander around.
Everywhere you look is fodder for a picture that will be worthy of hanging on your bedroom wall or becoming the background for your computer screen.
3. Rome, Italy
I know, it's not fair to the rest of Europe to list two Italian cities in a row, but have you been to Rome? Rome is like an expansive outdoor museum of ancient human history that operates as a fully functioning city.
It showcases some of the most incredible statues, fountains and pieces of architecture this world has ever known. To top it off, Vatican City is located in the very heart, which is worthy of having its own inclusion on this list.
4. Prague, Czech Republic
Prague is made up of two parts. The new city features shopping centers, places to eat and other hubs necessary for a city to function. It's from this side you'll lay bright eyes upon a medieval castle perched among other architectural feats on a hill, which is only accessible by an extravagant bridge across a river.
This side is the old city, and it will demand your attention with its jaw-dropping structures, public squares and ancient parks.
If you ever happen to land your feet here, make sure to partake in a walking tour. Prague has one of the darkest, yet fascinating histories, and things there have only just recently turned for the better.
5. Edinburgh, Scotland, UK
Edinburgh is just about as medieval as it gets. I felt like a knight while I trotted among its dark structures and impressive castle overlooking the city.
Just like in New York City, it has a famous park that allows for an escape from the hustle and bustle of the city life. Except, this park is an inactive volcano you can climb up to take in a glorious view of the city and ocean. You'll also find the ancient ruins of a 15th-century chapel, just casually hanging out in the park.
6. Athens, Greece
The Acropolis is almost reason enough to visit Athens. That is, if the scattered ruins, vibrant markets and delicious food that are ubiquitous throughout didn't exist. Oh, and don't forget the ideal weather with which Athens has been blessed.
Athens is one of the oldest cities in the world, and it is a true achievement of mankind. You need to see this place with your own eyes. Take a walking tour to begin to understand how mind-blowing the city actually is.
7. Amsterdam, Netherlands
To me, Amsterdam is an enchanting and classy Las Vegas. The lights of Vegas are much flashier than those found in the Red Light District, but there is no denying both places are cities of sin.
When I went to Amsterdam in my mid-20s, as one who wasn't adverse to partying, I was, at no point, disappointed. Picture a city that includes historic charm consistent with the best of Europe, and is filled with young travelers from around the world, looking to share a good time.
And, if you're looking for a really, really good time, don't forget to visit those naughty little establishments Amsterdam is known for (I'm talking about the cafés, guys).
8. Nice, France
Don't tell Paris, but I think I enjoyed Nice even more. From the rocky beaches that create blissful sounds as the waves flow up and down them, to the stunning panoramic views visible once you reach the summit of the ancient castle hill, it's beautiful.
Nice feels like a tropical paradise in the summer, but has been developed with magnificent buildings, which can be looked upon via its roadways that seem to float about the place.
9. London, England, UK
Strolling through the streets of London sort of feels like actualizing a fairytale. Maybe this is just because it's often the setting for old stories, but this feeling is a powerful one. It feels nostalgic, as if you are reliving a part of your childhood you never actually experienced.
Like Paris, it's the feeling the city instills in you that makes London so special. It doesn't hurt that in many places throughout, the city looks like the extension of a castle and the ancient towns that would likely accompany it.
10. Barcelona, Spain
The thing that impressed me most about Barcelona was its ability to successfully blend the new with the old. Something you will notice about many places in Europe is that the newer additions can detract from its charm.
This is not the case in Barcelona. Take Park Güell, for instance, which only began construction in the 1900s (very young, in European years). The park, which is a work of Gaudi, is one of the city's most renowned attractions.
When you're done touring the sites, keep in mind Barcelona is located on the water. Right along the beach (filled with beautiful and mostly nude Spaniards), you will find an assortment of fresh seafood restaurants and dance clubs. So, Barcelona is essentially like paradise.