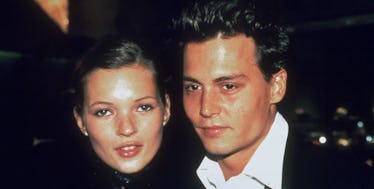 9 Couples From The '90s Who Set All Of Our #RelationshipGoals
REX
Being a '90s kid, I can honestly say I blame my high expectations for love on the couples I saw in the music videos, TV shows and movies growing up. The 1990s were by far the best years when it came to falling and being in love. I mean, that is when my parents conceived me, so it must have been a good time for romance.
My high expectations for love have been set since I saw the way Max Goof looked at Roxanne in "A Goofy Movie." And if you didn't have a crush on kid Goof, then clearly you were looking for love in all of the wrong movies.
Regardless of how you look at it, these nine couples gave us all the feels:
1. David And Victoria Beckham
They are still #relationshipgoals to this day. Who doesn't want to be married to a soccer player with a body like that, or have a wife who was a Spice Girl? Don't even get my started on how perfect their children are. Oh, and they are probably one of the only '90s couples that is still standing strong.
2. Tom Cruise And Nicole Kidman
We loved to love these two, and we loved to read about them in the '90s tabloids even more. Literally every couple wanted to be them at the time. Not to mention, the pretty faces on both of them are still unreal.
3. Jennifer Lopez And Sean Combs
I'm still low-key sad this relationship did not last. I could have seen this working out great, but then Marc Anthony came along. They were probably the best looking couple at every red carpet event they went to.
4. Ellen DeGeneres And Anne Heche
Although they both have moved on to different relationships, Ellen and Anne truly were #relationshipgoals at the time. They were one of the first celebrity couples to really make a stand in the LGBTQ+ community, and they will forever be appreciated for that.
5. John Stamos And Rebecca Romijn
This couple met at a Victoria Secret Fashion show in the late '90s, but unfortunately, they are no longer together. I'm still upset about this split, but I guess you really can't have everything you want in life.
6. Will Smith And Jada Pinkett-Smith
If this isn't considered a power couple, then I don't know what is. Will and Jada have been slaying the couples game for way too long, and I don't see that trend coming to an end anytime soon. Not to mention, they ended up having two superstar children.
7. Sarah Jessica Parker And Matthew Broderick
The definition of relationship goals is making it through the terrible fashion trends of the '90s together, and then getting married and having three beautiful children. Their fun-loving personalities just make for the perfect and most balanced relationship.
8. Johnny Depp And Kate Moss
Johnny and Kate were on display for the entire duration of their relationship. In the beginning, they toughed it out and definitely made it work, and they were seriously #relationshipgoals. The couple was spotted everywhere together, but unfortunately, the pressure on the relationship rose. Then, the couple split due to other romances.
9. Cameron Diaz And Matt Dillon
These two absolutely beautiful people made for serious '90s couple goals. Although their relationship was pretty short, it was one that gave everyone all the feels (in the best way possible).