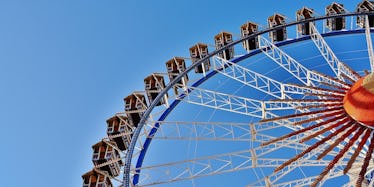 8 County And State Fairs You Need To Add To Your Wanderlust Bucket List
Alexas_Photos/Pixabay
Just like barbecues and pool parties, county and state fairs are a summertime staple.
Communities come together to show off their regional flare, from fresh farmers markets to local talent and competitions.
Each fair is unique to its location while still sharing the traditional family values of a good old-fashioned fair.
These events can be a great way for locals and visitors alike to learn more about the culture of a place. For those who travel during the summer, attending a fair adds a friendly yet unexpected twist to their agenda.
These are eight county and state fairs you need to add to your wanderlust bucket list.
1. San Diego County Fair
Nothing like riding the ferris wheel at #sunset! @visitsandiego San Diego County Fair. pic.twitter.com/bBjbeJarZ1 — Noreen Kompanik (@noreenwriter) June 25, 2017
The San Diego County Fair is where the summertime fun is at. In addition to carnival rides, attractions, and livestock, the summer concert series hosts big names in music, such as Aloe Blacc.
An awesome thing about the San Diego County Fair is several of the nighttime concerts are hosted by some lit DJ's and other EDM groups, making these shows more like a rave than a chill concert.
It definitely clicks with anyone who wants to party, that's for sure.
2. Minnesota State Fair
We can't argue with @andrewzimmern on this one—the @mnstatefair can't be beat! #MYSAINTPAUL #OnlyinMN pic.twitter.com/o5eN0Oktzo — Visit Saint Paul (@SaintPaul) June 14, 2017
This year, the Minnesota State Fair will be held from August 24 to September 4, 2017, in St. Paul, Minnesota.
The concerts taking place at The Grandstand will feature artists such as Toby Keith, Stevie Nicks, and Nickelback, as well as comedians and entertainers.
This fair easily rocks the midwest.
3. California State Fair
It's cool n all but I'm gonna say the California State Fair > Ohio State Fair #ohiostatefair pic.twitter.com/XQcdtgQ3xi — Tina Horton ⛱ (@tinatellsyouso) July 30, 2016
Concerts, amusement park rides, and local competitions are to be expected at this classic family fair... but the fun doesn't stop there.
To add to its relaxing, laid-back vibe, the California State Fair is well-known for its delicious wine and brews. It will host the Best of California Brewfest on the fairgrounds on July 22... so mark your calendars.
4. Texas State Fair
(credit: Jason Hays/State Fair Of Texas) - CBS DFW https://t.co/dU25EYJnQS Go Local https://t.co/VpmQUDK8P8 pic.twitter.com/vsRKtIJT6A — Dallas oGoing (@DallasoGoing) April 20, 2017
The State Fair of Texas takes place from late September through October in Dallas. With entertainers such as Maren Morris and Flo Rida, things are sure to heat up, despite the fall weather.
The fair also hosts events such as Agriculture Awareness Day and Farm Day at the Fair. This is definitely a place for you if you're a country girl at heart.
5. Erie County Fair
How about this beautiful shot for #WaybackWednesday? #ErieCountyFair #StratesShows @ErieCountyFair pic.twitter.com/YdmS5viTFj — Strates Shows, Inc. (@stratesshows) February 1, 2017
The Erie County Fair is one event in New York you don't want to miss out on. It hosts dozens of competitions each year, so visitors can get a taste of New York's finest.
The Strates Midway, otherwise known as a "railroad carnival," boasts just about 70 rides and 100 games. Get ready for it to make its annual stop at this epic county fair.
6. Los Angeles County Fair
It's the final week of the Los Angeles County Fair! Have you gone yet?https://t.co/C0prkNXLzK pic.twitter.com/BYff0f6RY4 — Campus Times (@lvcampustimes) September 20, 2016
You can expect the best in music and entertainment at the Los Angeles County Fair. Fifth Harmony and Hunter Hayes will share the stage with comedians such as Patty Lebelle and Queen Latifah among others throughout September in Pomona, California.
The Los Angeles County Fair also hosts horse racing, which can be enjoyed from the comfort of the fairgrounds. You can even put a few dollars on your favorite horse, if you're feeling lucky.
7. New York State Fair
Well I accidentally went to the New York State fair on pride day! It was awesome! pic.twitter.com/XGrmdKr3om — chloesrocketship (@chloesrocket) August 27, 2016
The Great New York State Fair takes place in Syracuse, New York from late August through early September.
This fair is the only one in the country to host its own Pride Day celebration. This year, events will include a flag raising, a parade, and LGBT musical performances.
8. Kentucky State Fair
564,937 of you attended the Kentucky State Fair this year! @whas11 (photo courtesy: @kystatefair ) pic.twitter.com/BL4LKxGTqf — Derrick Rose WHAS11 (@WHAS11DRose) September 1, 2016
For ten days in the Bluegrass State, the fairgrounds will be home to music lovers and performers alike. With incredible performances all day, your inner musician will be thoroughly satisfied.