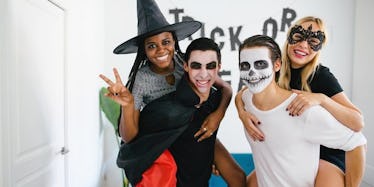 9 Quick And Easy Costume Ideas For The Squad Who's Lazy AF
Bonninstudio/Stocksy
Halloween is still over a month away, but you know pretty soon, it will creep up on us. For those of us who are hardcore procrastinators, every year your Halloween costume becomes a scramble to find what's in your apartment and what you can throw together last-minute. You and your squad may have talked about doing a group costume this year, but deciding on something will also take time and creativity. When you're lazy AF, you need all the time you can get to put a costume together. That's why you need to be equipped with some super lazy costume ideas for Halloween.
You and your crew want to rock any Halloween party you go to by showing up in awesome costumes, but the thought of sewing or endless shopping is exhausting. You want to make a cool statement in your garb, but you don't have to break a total sweat about it. There are some super easy, but also super fun costumes you can probably find in your house right now. You most likely want something you can literally throw on from what you have as you're rolling out of bed and heading out the door. Here are nine Halloween costume ideas for the lazy squad who still wants to rock the Halloween Instagram post.
1. Rugrats Characters
Get nostalgic this Halloween by being your favorite Rugrats characters. You can raid through your closet and find outfits that match with what your favorite baby was wearing. I mean, Tommy's costume is the easiest. It's just a diaper and a blue shirt, and you're set to win Halloween.
2. Minions
Everyone has a pair of overalls, amiright? A minions costume is oh-so-easy. You just need a yellow T-shirt or jacket, and a good pair of overalls. You can get creative with some tinfoil goggles if you're feeling up for it. But, don't work too hard.
3. Social Media Queens
This costume idea is adorable. Everyone in your squad can pick their favorite phone app and be that. You just need to coordinate colors with the app of your choice, and print out the logo to tape it to your shirt.
4. Alvin and the Chipmunks
This option is also another super easy pick. You just need three sweaters that are red, green, and blue, and you're done! Whoever chooses to be Alvin has a little more work cut out for them putting a yellow "A" on their sweater, so give that position to the friend who's willing to put in a little effort.
5. Flower Children
Grab anything boho from your closet, and be a flower child. I'm sure you can find things in your closet for this costume literally right now. Draw some peace signs and flowers on your cheeks with eyeliner for the finishing touches.
6. Cute Mice
Take a cue from Mean Girls and just throw on some animal ears. There you go; you're a mouse. You can draw on some whiskers and a nose with eyeliner. This idea is simple, easy, and fun.
7. A #TBT Squad
This one wins for the laziest costume idea ever, but it's really clever. Just find anything from your closet that could be a throwback and wear it. Have someone carry around a sign that says "#TBT" and you are instantly a throwback Thursday crew.
8. Pretty Little Liars
If everyone has a black hoodie and some gloves, you guys can all be A. You also have a pose ready to go for your Halloween squad picture. Just throw up your finger like you're keeping a secret, and there you go.
9. The Spice Girls
Bring girl power to Halloween by being the Spice Girls. If you pool together your closests, I'm sure you can find outfits for each Spice Girl in the group. Just throw up a peace sign, sing a song, and say "Girl Power" a lot. People will know who you are, and they'll be super impressed.