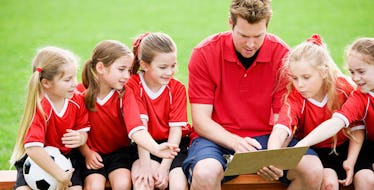 7 Ways You Can Work With Your Community During Child Abuse Prevention Month
Anyone with a brain will tell you that children are the future. Of course they are. But what, exactly, does that mean for us? It's not like we Millennials are crazy old or anything. While some of us have children of our own, it's not uncommon for people to wait until later in life to have children, if they have them at all.
Regardless of your decision to reproduce or not, and regardless of if you even like kids or not, we cannot forget that children are our future. As such, it's imperative that we nurture their innocence and growing wisdom. It's vital to show children that they're not alone in their journey to adulthood. Nurturing communities can help provide children with the support they need now to succeed later on in life, especially if they're experiencing abuse or neglect.
Children who suffer abuse grow up too soon, as many adults who have experienced abuse in their own childhood know all too well. In Child Maltreatment 2013, a US Department of Health and Human Services report, an estimated 678,932 children in our country suffered neglect or abuse, and 1,520 children of this reported number died as a result of abuse or neglect.
April is National Child Abuse Prevention Month. You can help prevent neglect and promote familial well-being. This year's theme is "Building Community, Building Hope." Here are seven ways you can show your support for National Child Abuse Prevention Month:
1. Work with your neighborhood to create family fun activities.
Too often, we live our day-to-day lives ignoring the people around us. Have you ever taken a hot minute to introduce yourself to your neighbors? Connected neighbors are aware neighbors. They provide additional role models and support systems. Being a good neighbor is about more than buying Girl Scout cookies and returning mail to the proper mailbox.
Form a neighborhood association, or work with an existing association to organize neighborhood picnics and holiday events. Community events are a great way to bring the neighborhood together, whether it's a father-daughter dance, a charity neighborhood yard sale or an Easter egg hunt in the park. When neighborhoods work together to create family fun activities, the community benefits as a whole, and children feel a part of a bigger family.
2. Create a babysitting co-op.
Time away from your children is as important as time with your children, but many families don't have the financial resources to hire a babysitter or pay for daycare. Some counties may not have daycare programs established for children.
Forming a babysitting co-op is a way for families to help each other. Instead of paying a babysitter, families trade time to babysit each other's children. Families may pool resources to buy snacks and other items. For example, each family could chip in to buy the family who is babysitting a paid dinner at a local restaurant and then rotate this time-served reward. There are many perks, including saving money, the kids socialize with their peers and parents enjoy free time.
3. Volunteer at a local shelter.
If you don't have children but want to help, many children's homes accept volunteers to teach a skill or give their time in other ways. Your skills can be put to good use at a local children's shelter or a shelter that helps women with children who have left a domestic violence situation. If you are a tutor, artist or have amazing gardening skills, you can volunteer your time. Various skills may also be volunteered to give your support to women with children who have suffered from domestic violence.
Everyone has something to offer, whether it's your time or resources. You could help out on an anonymous phone line or volunteer your time to help create educational marketing materials. Time is precious, and the gift of yours may be more valuable than monetary donations.
4. Nurture a safe environment for children to play.
Speak to your local parks and recreation staff about park safety for children. Leslie Knope would agree that the proper equipment and playgrounds for particular age groups is important for playground safety and to prevent injuries.
Does your community have any programs or posted resources to help to the parks and recreation community? Do such resources need to be implemented? Take the initiative to speak up about this community need.
5. Learn the signs of child abuse.
Signs of child abuse can be psychological and physical. Local government, private and faith-based organizations should provide community support to the family and child in need as well. Urge local schools and daycare facilities to educate children and staff about the signs of abuse and encourage the community to provide education on the subject. If you think a child is suffering from abuse, don't second-guess yourself; call the Childhelp National Abuse Hotline at 1-800-4-A-CHILD (1-800-422-4453). You'll need to know the child's name and location, signs of abuse you have witnessed, others who can attest to the abuse and the name and relationship of the person possibly causing the abuse the child. You can choose to remain anonymous when calling.
6. Assist with community and school initiatives to promote after-school activities.
Abuse and neglect leave scars in the brain and have been linked with juvenile delinquency, addiction, anxiety disorders and depression. In fact, childhood psychological abuse can be as harmful as physical or sexual abuse.
Arts, music and sports activities have been shown to provide social benefits to adolescents recovering from child abuse, helping children form healthy relationships that prevent depression in adulthood. It's vital for communities to show support for these programs.
7. Encourage adult sufferers of child abuse to seek treatment and support.
Different generations had different ways of bringing up their children, and some forms of punishment were abusive. "That's just how I was raised," you may hear a loved one say, yet you notice how they flinch at certain words or are triggered by abusive moments in a film.
Adults who were abused as children still suffer trauma from long ago. Such experiences are not something that you easily put behind you. Associations like Help for Adult Victims of Child Abuse (HAVOCA) provide friendship, support and resources for adult sufferers. It's never too late to seek healing.
When children suffer abuse and neglect, families and communities also suffer. Psychological or emotional trauma from abuse is equally as qualifying and harmful as physical or sexual abuse.
By protecting and nurturing all children, communities nurture their own development and stability in return. It's intrinsic for individuals, organizations, schools and communities to be a part of the solution to end abuse and neglect by providing education and support for children. Whether you are a parent, an aunt, a cousin or just a passerby, no act is too small. Protect our children's innocence and joy. Keep our future safe; support National Child Abuse Prevention Month.