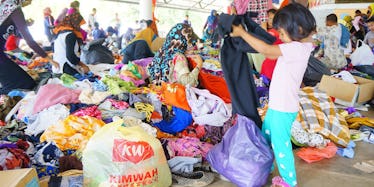 7 Ways To Make Sure Your Clothing Donations Actually Go To People In Need
Shutterstock
It is officially spring. Here in LA, we can't really complain about the winter, but still, spring is exciting. The weather is getting warmer, the days are getting longer and we somehow feel completely new. Many of us use this time to go through our belongings to either get rid of the old, clear our minds or simply make space for the new.
This holds true especially for our closets. Clothing donations can be a wonderful way to support people with the items they need, but not all donations are created equal. Unfortunately, only a small percentage of the generic bin donations make it to the right people. Let's change that.
Here are a seven tips to help you find the perfect fit for your garments:
1. Sort And Prep
Use gender, occasion, condition and season as the main sorting criteria when donating. Consider labeling the bags or boxes. Doing so will make it easier for you and the charity workers to sort and use the clothes. Your donation will have the most impact when donated in-season.
Wash, dry and fold clothing. It's incredibly important to ensure the clothes you are donating are wearable. If you don't have time, give Washio a try. For other donations (shoes, accessories, etc.), ensure the items are clean and in good condition.
2. Suit Up
Finding an organization that specializes in professional clothing will ensure your office gear and fancy suits get the impact they deserve. For example, Clothes The Deal provides business clothing and training to help low-income individuals achieve their career goals. You can drop off your donations at several businesses all over Los Angeles or right at its headquarters in Downey.
Want to be a "Superhero Seamstress?" They also have great opportunities to volunteer, like mending clothes for people with physical disabilities by exchanging buttons for velcro, removing a sleeve, etc. You can sign up here.
3. LA Pride
West Hollywood has become a leader of communities in showcasing how to protect and advocate for equal rights for the LGBTQ+ community.Homeless LGBTQ+ individuals represent almost half of the nation's young adult homeless population.
In many cases, they are forced or chose to leave home because their families didn't accept them. Many come to LA to seek acceptance and assistance. Los Angeles LGBT Center serves more than any other organization in the world. Items like jeans, sneakers, T-shirts and sweaters are particularly welcome.
4. Furry Friend
Regardless of your reason to donate your fur, your donation could help (some areas in Los Angeles have banned fur) a loving cuddle buddy. Coats for Cubs is "an annual fur drive that encourages the donation of fur items to aid in the rehabilitation of injured and orphaned animals across the United States."
These donated furs are "sent to wildlife rehabilitation centers where they are used as bedding to provide a more natural and nurturing environment for the recovering animals." Donate between now and April 22 at any Buffalo Exchange location.
5. Hand-me-downs
Don't have a younger sibling or cousin to hand your old items down to? There are places that specialize in the needs of kids and their mothers. Baby2Baby is an amazing organization, and it is always looking for shoes and clothing (for ages 0 to 12 years), blankets and bedding and maternity clothes.
When it comes to donating items for children, the guidelines are a bit stricter. Only donate what you would feel comfortable seeing your own baby or family member use.
6. Prom Queen
I am German, so I never had a prom, but I've watched enough teen movies to understand how important prom night is for teens. Many organizations collect gently used gowns, formal dresses, suits, tuxedos and accessories for teens who are financially unable to purchase them. You might not have your prom dress anymore, but gowns, bridesmaid and cocktail dresses will do just fine.
Plus sizes are are especially needed because they are more limited in their availability. For example, A Place Called Home is currently accepting donations for their Cinderella & Prince Charming project in April.
7. Donation On Wheels
I admit, part of the reason why I donate is I don't have enough space in my apartment to keep everything, but I almost always have a bag of donations in my car. I just pull over, and I personally give someone a few items when I see the need. It hardly ever rains or gets too cold in LA. When it does, I put some sweaters in plastic bags and keep them in my trunk just in case.