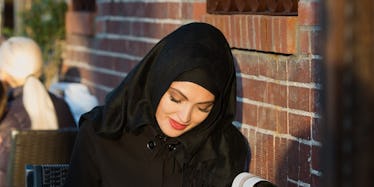 New Yorkers Are Taking Defense Classes To Intervene During Racist Confrontations
Admit it: We've all been in a situation in which we saw someone who needed help and did less than we should have.
It's not because we're heartless, but because intervening when shit is hitting the fan can be super scary.
Some of us just aren't confrontational people; some freeze in fear and just don't know what to do. It's understandable, but it's also not acceptable anymore -- especially when it comes to the violence and harassment disadvantaged groups deal with daily.
New Yorkers have a solution:
The "Accompany Project" has a plan to get you prepared for these types of situations, according The Huffington Post.
The program, started by the Arab American Association of New York, began after the surge in anti-Muslim violence following Trump's victory in the 2016 election.
The project began by organizing citizens to accompany Muslim New Yorkers during their daily commutes, and eventually led to violence interruption classes.
Linda Sarsour, executive director of AAANY and Women's March co-chair, told The Huffington Post:
Solidarity is a verb. It's one thing to say you're an ally, and it's another to show it. If you're going to be horrified at visible Muslims being attacked in public spaces, you have to be prepared to step in.
Solidarity is a verb.
The cool thing about the classes is that while you'll be kicking Islamophobia's ass, you likely (OK, hopefully) won't have to kick any actual ass. Program leaders stress that classes are not about teaching you how to be a hero.
Instead, you're trained in how to step up and de-escalate situations in ways that keep Muslims and yourself out of harm's way.
The "broken record tactic."
Classes include training in tactics like the "broken record" method, where the bystanders repeats phrases like, "Give her space" to get through to the aggressor.
Learning the use of "I" statements allows a bystander to take the focus away from the victim by telling the aggressor exactly how he or she makes you feel (i.e. scared, uncomfortable, nervous, etc.).
Bystander intervention classes are only the first part of a three-part training. The second wave begins in March, and will teach allies how to address microaggressions, while the third portion will focus on community organizing.
Twenty bystander intervention trainings — from Harlem to Brooklyn to Sunnyside — have been held since December.
Over 500 New Yorkers have attended so far.
Sigh. Doesn't this class just make you feel at least a little better about the world, right now?