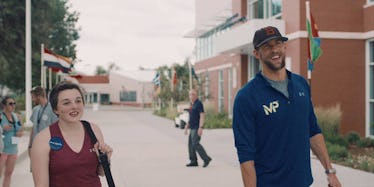 Pediatric Cancer Awareness: How Athletes Can Help Make A Difference
In 2015, about 10,380 children will be diagnosed with cancer. Unfortunately, this number continues to rise year after year.
And yet, pediatric cancer seems to be continuously overlooked in society. As we all know too well, cancer not only drastically affects the person who has it, but also affects his or her family, friends and community.
Depending on the severity of the cancer, kids are forced to miss out on a massive part of their childhood, as their daily activities are limited, due to safety precautions and doctor visits. During this time, they also miss out on the bonding and character-building opportunities found through sports.
A classmate of mine in college was diagnosed with pediatric brain cancer when she was a child, and was forced to miss out on her endless lacrosse games growing up.
It was then that she made the realization that kids with cancer should still be granted the opportunity to be a part of a team, no matter their diagnosis.
Years after her idea has come to fruition, she's paired hundreds of children suffering from cancer with high school and collegiate sports teams across the United States.
Now, this isn't the only way to make a positive impact on an afflicted child, but to further explain the importance of proactively making an effort to enhance these children's quality of life, here's the story of my "adopted little sister."
Children affected with cancer are generally perceived to be weaker in a way, whether physically or mentally. However, the first time I saw our newest team member, I knew that those stereotypes were absolutely false.
Our little girl, who had suffered from multiple surgeries, hospital stays and brain tumors, was more beautiful, charismatic and energetic than I would ever be.
If that's not inspirational, I don't know what is.
We welcomed her with open arms, and she most certainly returned the favor. She was our biggest fan at every game and our constant support system, and I am honored to say we were hers as well.
Children can teach you the most valuable lessons if you're willing to listen.
She taught us what it means to be strong. She taught us what it means to have courage. She taught us what it means to never give up and keep fighting. She put our lives into perspective.
If she is able to face each day with a smile, so are we. She has overcome adversity at every turn, and has handled each day with grace. When we are losing a game, studying for a test or having a petty fight with a friend, we keep in mind there are bigger things in life. After all, she is facing them.
Because she has been through more than most people endure in a lifetime, it's sometimes hard to remember she's still just a kid. Even though some of her childhood has been taken away, it's a blessing when those kiddish moments sneak up on her, so she can just be the silly, carefree child she should have always been.
That's why we appreciated it just a little bit more than usual when she told us boys still had cooties.
Now that I'm out of college and new teammates have taken my place, bonds like these still haven't faded.
In fact, I got a phone call from her, just the other day. Worried that something was wrong, I called back immediately. It turns out she was just having a contest with her friend to see who could get the most calls back. I'm pretty sure it's safe to say, she won by a landslide.
The moral of the story is clear: Don't underestimate the influence you are able to have on a young child's life.
Whatever your hobby may be or whatever sport you play, there is definitely a child out there suffering from cancer who would love to be exposed to that environment.
Visit hospitals. Volunteer. Make a difference. If you have the opportunity to brighten a child's day, take it without thinking twice.
Believe me when I say the experience will be far more rewarding for you than you could ever imagine. If you're lucky, maybe you'll be a child's daily dose of inspiration.
But, without a doubt, they will most certainly always be yours.