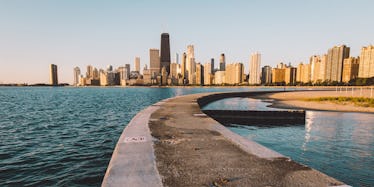 6 Reasons Chicago Is The Perfect Place For Millennials Fresh Out Of College
After all of those late-night study sessions and endless research papers, you finally did it. You're a college graduate.
It's such a great feeling to accomplish a huge goal, and now that undergrad is done, you are ready to move to another city. You want to be in a big city, but not too big where you feel like you might get lost. You want diversity and the opportunity to find yourself doing something different every weekend. You want people to actually be friendly, even if they're strangers.
Now, where can all of this happen, you ask?
The answer is Chicago.
As recent college graduate having moved here from the East Coast, I know the Windy City is the perfect place to end up once you leave college behind.
Here are a few reasons Chicago is the best place to move to, especially after graduating:
1. It's a great place for an entry-level job.
With Chicago being the third largest city in America, there are many opportunities to find a job right out of college. Tons of companies in the city are always looking for new talent, and there's always plenty of thriving startups.
2. You don't need a car.
If you're moving and not sure whether to bring your car or not, let me go ahead and tell you that you don't need it. Once you move here, you'll learn walking and biking are extremely common.
Chicago also has an awesome metro rail and bus system. Don't even bother with cars. You don't want to deal with unnecessary parking tickets, parking fees EVERYWHERE or dealing with crazy road rage.
3. People are actually nice.
Yes, for a big city, people are actually nice here. Coming from North Carolina, I knew I wasn't going to expect any kind of Southern hospitality like I'm used to, but surprisingly, when I first moved here, asking strangers for directions or advice was not a problem.
People here are friendly, and it makes you want to be nice, too. Most big cities have people who are rude or don't want to bother helping you or talking to you, especially if you're a stranger.
Chicago, however, is the opposite. Who doesn't want to be around nice people?
4. The food is incredible.
I don't even know where to begin when it comes to the food here. Chicago is awesome when it comes to diversity and different cultures. You can find literally ANY type of food here.
From African to Polish food, this city has it all. And of course, the minute you move here, you have to check off the classic deep dish pizza and hotdogs that make this city Chicago.
5. It's affordable.
Coming straight from college, I barely had any savings, and I was just starting a job. Of course, money was (and kind of still is) a stress on me.
Unlike other major cities like New York or LA, Chicago is pretty affordable. Minimum wage here is $10.50, and the cost of living is close to an average income. Whereas in New York, minimum wage is way less than cost of living. Trust me when I say a decent living is realistic in the first year of living in Chicago.
6. You'll never be bored.
This one is pretty self-explanatory. Rather than asking yourself, "What is there to do?" you'll be asking, "What festival should I to go this weekend?" or "What concert should I go to this weekend?"
The city is broken down into smaller neighborhoods, and there is something going on every weekend in every neighborhood, especially during the summer. With festivals, concerts, live shows, boat tours, restaurants, parks and everything else not in this list, you will always have something to pick from when it comes to weekend plans.
So if you're like me and want to meet new people and try new things, this city is the perfect fit. Not only will you be able to grow and learn from adapting to this big city, but you'll be able to do it at your own pace.
What're you waiting for? Start packing your stuff and get your butt here.