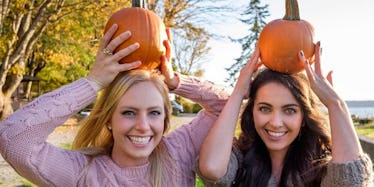 7 Cheap And Fun Things To Do With Your Broke Best Friend In The Fall
Suprijono Suharjoto/Stocksy
Fall is the one season I get excited about all of the activities that come with it. The new season brings pumpkin patches, haunted houses, Pumpkin Spice Lattes, leaf piles, and apple picking. There are so many fun things you can do with your best friend once fall rolls around. The only thing that can stop you from checking off every fun thing from your autumnal bucket list is when you're broke AF. It can really put a damper on your festive attitude when you think you can't afford everything you want to do... but no money, no problem. There are plenty of cheap things to do with one friend this fall that require little to no money at all.
You don't need to fill up your time with extravagant things to enjoy this upcoming season. A lot of fall activities are free, and the rest you can achieve with a little imagination and a smart budget. Don't stress if you see the leaves changing colors and falling from the trees. Even if your bank account is following suit, you can get financially smart when you're planning out your fun. Here are seven cheap and awesome things you can do with your best friend this fall when you're both totally broke AF.
1. Make Pumpkin Spice Lattes At Home
You don't have to spend crazy amounts of money going to your favorite coffee house to get the Pumpkin Spice Latte you've been craving all year. There are plenty of cheap and super easy recipes to make the PSL from the comforts of your kitchen. You and your broke best friend can try out different recipes to find the ones you love.
2. Go For The Cheap Version Of Pumpkin Carving
Instead of going to a pumpkin patch where you have to pay to get in and then pay for your pumpkin, just go to your local grocery store and buy a cheap pumpkin. The end result is always the same, anyways. You can buy a pumpkin that you and your bestie can carve together.
3. Have A Fall Foliage Photo Shoot
In the fall, nature decides to take on a colorful makeover that's honestly one of the most beautiful things you can see. You and your BFF can take advantage of this stunning backdrop by having a fall foliage photo shoot. Go outside and take pictures of each other in the red and orange leaves. The best thing about this activity is that it's totally free.
4. Play Football With A Group Of Friends
Get a group together to go to the park and play a game of touch football. It's football season, so why not play outside when the weather is nice and cool? This is a free activity that's also so much fun, so you're winning all around.
5. Have A Scary Movie Marathon
If you can't go to a haunted house, you can enjoy the thrills at home with a scary movie marathon. You can watch all of the classics, like Friday the 13th and Scream. If you're not into getting too spooked, you can watch some family-friendly faves like Hocus Pocus or Casper. You and your BFF can pig out on great snacks and popcorn. It's a way cheaper option than going out to the movies.
6. Get Creative With Your Hot Cocoa Packets
When I think of the fall, I think of getting warm and cozy while drinking hot chocolate. It seems like cafes want to sell you different fun flavors of hot chocolate. You can make this a fun activity at home with your BFF by getting a packet of hot chocolate and challenging each other to make the most delicious, Instagram-worthy version of it. The whole kitchen is up for grabs. It will be a fun cooking challenge, but a cheap one.
7. Plan Out Your Fall Wardrobe
With fall comes back to school shopping, which includes all of the new cute sweaters you and your friend want to buy. Unfortunately, when you're broke, that means a little less shopping, but it does mean a little more getting creative with what you already have. There are three things you can do. You and your BFF can raid each other's closets to find clothing items you want to swap. You can also go through each other's closest one at a time and find items you want to incorporate into your fall style. If you decide your wardrobe just isn't fall-ready, you both can go to a local thrift store to find fall items in your budget.