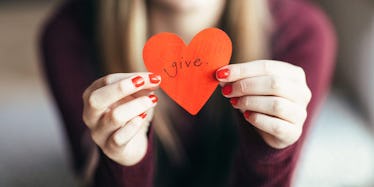 4 Ways To Give Back This Holiday Season So You Can Spread Christmas Cheer
As the holiday season rolls around, charities, churches, companies and universities all vie for your help in raising money.
As a contributing member of society, donating to an organization is a great way to spread Christmas cheer and help those in need.
With so many organization to choose from, it can be hard to make an informed decision as to where to donate your hard-earned money.
That is why I have come up with four unique ways you can give back this season and feel confident about it.
Best Friends Animal Society is an organization whose focus is to stop the killing of nearly 4 million pets in shelters all across America.
This is the perfect charity for all the animal-lovers out there to help stop the killing of those precious fur-babies.
You can even go to their digital mosaic and add a photo of your own furry mate and tell the world how your pet has enriched your life. In addition, dogs who are in need a home are featured as well.
In partnership with Best Friends Animal Society, Universal is matching all donations up to $25,000! This campaign gives everyone a chance to appreciate, donate and care for our furry friends.
If you're motivated by helping others, Charity Miles is an app that helps you earn money while you walk, run or bike. The app uses your phone's GPS system to track your exercise. Each time you open the app, you can pick a charity.
There are over 30 charities to choose from and you can choose a different one each time if you want (which is perfect if you're always undecided when it comes choosing things).
You will then earn 10 cents per mile for biking and 25 cents per mile for walking or running, and it is donated to your charity of choice. If you're a fitness enthusiast like myself, then this is great motivation.
Staying healthy and helping others at the same time -- what could be better?
Since it's Christmas time, it seems logical to some to donate to a church organization. For those of us who aren't currently part of a church and probably won't be making it to any of those Christmas services, it can be hard to find a church-related organization that is trustworthy.
The Lotty Moon Christmas Offering was started by a woman who gave everything she had to the poor and needy in 1888.
Do you want a safe climate and a better future? Donating to 350 is the way to go.
This organization strives toward building a just, prosperous and equitable world, built by the power of ordinary people. Their goal is to create a climate movement that can hold our leaders accountable to the realities of science and the principles of justice.
This campaign brings together over 188 countries from all around the world. By donating to this organization, you can be sure your money is helping to keep carbon in the ground, helping to build a new, more equitable economy and helping to limit carbon emissions in the air.
Donating toward an organization that meets your interests is an important way to maintain balance in our community, country and world as a whole. Wherever you choose to donate, you can be assured your donations help make our world a better place.