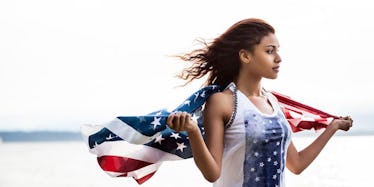 6 Charities To Donate To So You Can Celebrate Memorial Day The Right Way
For many of us, Memorial Day marks the unofficial first day of summer.
The weather is finally warming up, beckoning us all to relax by the pool or drive down to the shore.
Backyard grills are sizzling with fresh hot dogs and burgers as far as the eye can see.
As fun as it is to indulge in festive barbecues and pool parties over MDW, it's important to acknowledge the true history of the holiday, and why it's so critical to celebrate it each year.
Memorial Day presents an opportunity to remember the brave men and women who have fought (and for some, have lost their lives) to protect our country.
There are countless ways to give back to these brave Americans, but we've made it super simple for you to find an organization that speaks to you.
Here are six charities to donate to this year in honor of Memorial Day.
This nonprofit organization dedicates their time and resources to building homes and rebuilding lives for post-9/11 veterans and their families.
You can donate here, but if you're interested and have time to lend a helping hand, the site provides an interactive map so you can find a Homes For Our Troops project near you.
This charity partners with the Navy and Marine Corps to provide multiple forms of assistance to active-duty and retired Marines and Sailors and their eligible loved ones. They strive to help these men and women better their personal financial skills, advocating them to foster individual financial stability.
You can donate online here to help Marines, Sailors, and their families rebuild and recover.
This amazing organization's mission not only involves honoring these valiant "wounded warriors," but they strive to empower these men and women, as well.
The Wounded Warriors Project offers a variety of resources for veterans, including mental health support, benefits, employment opportunities, educational services, and so much more. You can donate to the charity online here.
Hope For The Warriors focuses on helping veterans transition from military life back into mainstream society after they return home. Their mission emphasizes the importance of restoring a strong sense of self through extensive support, including peer engagement and connections to resources in the community.
Online donations can be made here.
This incredible charity offers a network of what they call "comfort homes," where veterans' families can stay (free of charge) while a loved one is getting treatment.
Fisher House Foundation also has the Hero Miles program, which uses donated frequent flyer miles to help bring loved ones to the bedside of an injured service member.
You can make regular monetary donations here, and frequent flyer donations here.
As its namesake suggests, this organization is specifically all about honoring veterans and their families by raising respect and awareness for this important holiday.
Their main focus is on using flowers to remember all of the brave service members and passionately express our patriotism.
Donations can, of course, be made online, but you can also sponsor a bouquet of flowers or even a holiday wreath.
Never forget the dedication, bravery, and resilience of these incredible military service members and their equally courageous families and loved ones.