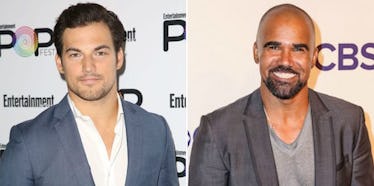 9 Dreamy Celebrities We'd All Love To Be With On 'Bachelor In Paradise'
Brian To/Abel Fermin/REX/Shutterstock
As summer comes to its bittersweet finale, we're making the most of this last stretch of bliss. It's time to kick back, relax with your mains, and take in every last pink and orange sunset summer has left. Imagine if we could finish off this sweet summer by chilling on a dreamy, beachy paradise with sangria in hand (made by the sexiest bartender around town, Wells Adams, of course), surrounded by all of our favorite celebrity hunks. One can daydream, right? Well, I'm about to play out that dream for you with this list of celebrities Bachelor In Paradise should cast. If these dudes are, in fact, officially off the market, then all of us would probably love to see what they can bring to paradise, amirite?
And, let's be real here, is there anyone who wouldn't want this dream to happen IRL? I think we can all agree this would be the ideal cherry topping to this epic summer. Needless to say, Chris Harrison, we are all here for it. And, not to worry, I am totally willing to take one for the team and volunteer for this version of Bachelor In Paradise. Get ready for some major eye candy, ladies.
1. Shemar Moore
The true chocolate thunder and daddy@shemarmoore If I was big as him I will get all the guys lol pic.twitter.com/feoT46q1Eo — Ant (@antoine_e) August 18, 2017
Oh hey there, Derek Morgan. All of us lost our hearts to this Criminal Minds stud since day one. Catch you on the sand in paradise, Shemar.
2. Scott Eastwood
Asked this nice lady if I could borrow little Sunny for this photo. pic.twitter.com/v8b6FjdxrK — Scott Eastwood (@ScottEastwood) September 21, 2016
Ah, Scott Eastwood. First of all, that dog is freaking adorable. Second, you never fail to cast a spell on the masses with that handsome smile and those baby blues.
3. Zac Efron
Talk about baewatch. It's only appropriate for paradise to come with a lifeguard, right? Zac Efron's abs are obviously our first pick.
4. Wells Adams
TBQH, I don't think paradise would be complete without our main dude Wells Adams' hilarious commentary in the mix. This Bachelor In Paradise star takes home all the gold stars.
You can totally make me a piña colada any day of the week, Wells. Just let a girl know.
5. Giacomo Gianniotti
Last nights screening of #MarilynMonroe with fellow cast @TheKelliGarner @SusanSarandon @JackNoseworthy @lifetimetv pic.twitter.com/l6bCVO4Jel — Giacomo Gianniotti (@GiacomoKG) May 12, 2015
For all of my fellow Grey's Anatomy fans out there, this one's for you. This surgical intern is a complete and utter hunk.
Crucial note: Scrubs are most definitely welcome in paradise.
6. Matthew Gray Gubler
Spenc... Matthew Gray Gubler you have my heart... pic.twitter.com/x9RcfkF4lC — miss malia (@maliaashley_) August 31, 2017
Talk about partners in crime. Matthew Grey Gubler and Shemar Moore are, hands down, one of the most epic best friend duos that have #blessed our hearts through the TV screen. To chill with them IRL would be a total dream come true.
7. Drake
Someone call the fire department, because the temperature is getting too hot to even handle in here. This paradise crew is looking pretty hot damn fine if you ask me.
Drake, his white tux, and bowtie, always, FTW.
8. Niall Horan
You can get 'Slow Hands' on @AppleMusic https://t.co/YhNYJXgXlk pic.twitter.com/xtMBS25Wdm — Niall Horan (@NiallOfficial) May 5, 2017
I think we can all use a little more Niall Horan in our lives, right? His voice will forever make us swoon beyond compare.
Imagine being serenaded to "Slow Hands" while living your best life on a hammock. It's safe to say we're all crushing hard right now.
9. Stephen Colletti
I can't believe I'm meeting @StephenColletti he is sooo freaking attractive pic.twitter.com/yzXGCZdPlH — Daddario (@chelsicake33) November 13, 2016
Don't even get me started on this One Tree Hill and Laguna Beach star. Stephen Colletti definitely deserves a spot on this list.
Oh, how our hearts have missed this total bae.