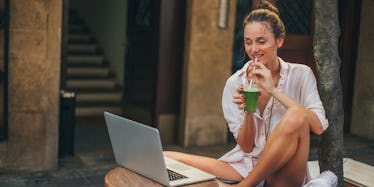 How To Celebrate Mother's Day When You're Thousands Of Miles Apart
My mom and I have always been very close. Ever since I left my hometown of Columbus, Ohio, at the age of 18, we've spoken on the phone every single day. Often, we speak to each other multiple times a day.
When I told her I was moving to Thailand, she started crying. Then, she asked, "But how will I talk to you every day?"
My husband's mom had a very similar reaction to his move. We promised them they didn't have to worry. Before we left, we gave them a tutorial on how to use Skype.
Both of them caught on surprisingly quickly. Now, they can't imagine how they spoke to us for all those years without being able to see our faces.
It's hard being away from home and missing special holidays and events. In fact, people often ask us about all the things we miss about the US. Honestly, the only answer we can really give is we miss our family and friends.
Food wise (burgers, Mexican or even deep dish pizza), materialistic wise (clothes or accessories) and experience wise (movies, bars), we're good. There's nothing that we're accustomed to that we can't get in Bangkok.
But friends and family simply can't be replicated. Knowing we can stay in touch and see the people we love "in person," in order to celebrate our special days in our own way, has made our extended time here possible.
We would never have been able to survive living here for so long without technology like Skype. Our moms would go crazy if they didn't feel like they could talk to us as often as they wanted.
While we feel guilty that we're not around for holidays, birthdays and other milestones in person, we have our own special ways to celebrate. We've started our own traditions over the past three years with the people we love.
We've celebrated two Mother's Days away from our moms. With another one just around the corner, we're always trying to think of new ways to make the day special for two of the most important people in our lives.
We always joke that since Thailand is 12 hours ahead of the US, we should celebrate every holiday and birthday for two days. We'll email our moms when it's Mother's Day here (12 hours before it starts in the US) to let them know we're thinking about them.
Then, we always make sure to Skype with them first thing in the morning their time, in order to ensure we're the first ones to wish them a happy Mother's Day. No one can compete with our early morning calls.
In all the years we've been here, no one has ever beaten us. We'll also "open" their presents with them via Skype so that they can see what we've gotten them.
The thing is, though, that they usually have to wait a few months to get their gifts in person because our gifts (local products or souvenirs) typically cost far less than the cost to ship them back home. I don't think they mind, though. I'm pretty sure that just being able to see our faces and hear our voices makes their day.
There truly has been no one who has supported our decision to make a life abroad more than our parents have. They were very wary at first, yes.
But after they saw how easy it was to communicate and stay in touch, all of their worries and reservations eventually faded away. Living far away can be tough at times, especially when you know you're missing out on special times with your family and friends. But it's pretty amazing that technology has made it possible to live halfway around the world and still not feel that far from home.
This combination of video chatting and having supportive parents has made our move abroad immeasurably easier. Even though it's sad for us on days like Mother's Day, we're living a life that most people can only dream about.
Without the support of our moms and video chatting apps, it would never be possible. In the case of Mother's Day, in particular, we actually get to celebrate it twice because Thailand has its own, different Mother's Day.
Thank you to Skype and our moms. Thank you to all the moms out there who support their kids' decisions, even if it means getting to see them in person a little less.