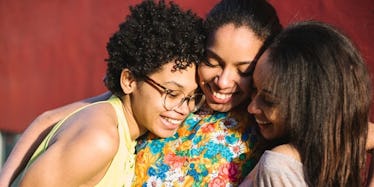 21 Insta Captions For Your Bittersweet Goodbyes To Friends Leaving For College
Simone Becchetti/Stocksy
Summer is almost coming to a close, which means school is right around the corner. If your friends are all going their separate ways to different colleges this fall, it can be a super tough time. You most likely had an epic summer to remember, and now you're forced to part ways for the time being. You're excited about what this new season holds, but don't want to say goodbye to your home crew just yet. It's all very bittersweet.
Before everyone leaves for school, it's time to show off to the world, or just your Instagram followers, how much you're going to miss them. Choose a solid squad picture for a #TBT post, or an Insta-worthy pic from one of your many summer adventures. Here are 21 captions for you to use when you can't quite put into words how to say goodbye, but you want your friends to know you love them.
1. "How lucky I am to have something that makes saying goodbye so hard." -- Winnie the Pooh
2. "Goodbyes are not forever, are not the end; it simply means I'll miss you until we meet again." -- Unknown
3. "Goodbye? Oh no, please. Can't we just go back to page one and start all over again?" -- Winnie the Pooh
4. "Don't cry because it's over. Smile because it happened." -- Dr. Seuss
5. "You're off to great places. Today is your day. Your mountain is waiting so get on your way." -- Dr. Seuss
6. "Go confidently in the direction of your dreams. Live the life you have imagined." -- Henry David Thoreau
7. "Remember me and smile, for it's better to forget than to remember me and cry." – Dr. Seuss
8. "Every song ends, but is that any reason to not enjoy the music?" -- One Tree Hill
9. "Feeling sad to leave doesn't mean you shouldn't go." -- Unknown
10. "This is the beginning of anything you want." -- "Boy, This Is The Beginning"
11. "Never say goodbye, because saying goodbye means going away, and going away means forgetting." -- Peter Pan
12. "Well, I am not usually one for speeches. So, goodbye." -- Ron Swanson, Parks and Recreation
13. "Missing someone is your heart's way of reminding you that you love them." -- Unknown
14. "May the odds be ever in your favor." -- The Hunger Games
15. "Hate to wave goodbye. Sea you soon." -- Unknown
16. "Distance means so little when friendship means so much." – Unknown
17. "Oh, I can't wait to see you again." -- Miley Cyrus, "See You Again"
18. "I'll hold you in my heart till I can hold you in my arms." -- Eddy Arnold, "I'll Hold You In My Heart"
19. "You'll be in my heart." -- Tarzan
20. "I'll be right here." -- E.T.
21. "We'll meet again. Don't know where. Don't know when. But I know we'll meet again some sunny day." -- Johnny Cash, "We'll Meet Again"