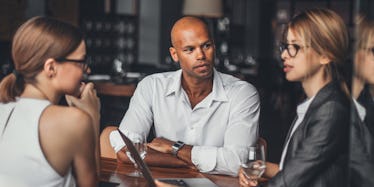 5 Ways I Grew My Business While Battling A Chronic Illness
Studio Firma
It was 24 when I decided to become a full-time business owner.
Coming from a family deeply rooted in entrepreneurship, this career path didn't come as a shock to me. As a child, I spent hours at my parents' respective places of business soaking in and retaining information like a sponge.
In my late teens, I earned an official role in my father's business. I fell in love with the idea of entrepreneurship and capitalism during this period. But unbeknownst to me was the level of difficulty it takes to start, operate and grow a business.
After my inaugural work experience and several failed employment opportunities, I became acutely aware that entrepreneurship would be the only viable career path for me.
It's extremely difficult holding down a job when you suffer from a chronic illness. The unpredictability of Sickle Cell Anemia makes it virtually impossible to maintain a work schedule, which will eventually frustrate an employer.
I fell in love with the idea of entrepreneurship and capitalism.
Furthermore, the ability to maintain the health benefits of an employee with Sickle Cell becomes a tall order, particularly for smaller companies in the age of Obamacare.
After almost a decade of hard work, discipline, sacrifice and a bit of good fortune, I am now the founder of a soaring eCommerce company that boasts partners like Gilt, Wayfair, ThinkGeek and Houzz, just to name a few.
Our products have been featured on the Discovery Channel, MSNBC, Gizmodo, BuzzFeed and many more.
Below are some tips on how I've been able to start and grow my business while suffering from arguably one of the most painful diseases in the world:
1. Focus on your passion.
You have to create a business around something you love and are passionate about.
If you're suffering from a chronic illness, this has to be mandatory.
Your business must not feel like work. It shouldn't be something that stresses you out. You're going to have to put in a lot of hours, so make sure it is something you love doing.
Being stressed out is the quickest road to a crisis, and if you're always in a crisis, building a business is practically impossible.
2. Go slow.
Today's businesses are fast. They evolve very quickly and pivot rapidly.
Business models are adjusted on the fly to accommodate market trends, and capital is raised at the inception stage. I urge you to do the opposite.
Take your time. Start small, and then grow into it. Don't take any unnecessary outside funding.
The idea is to put as little pressure on yourself as possible. If you have investors to answer to, I can guarantee many flare ups with your illness and you will eventually give up.
3. Rely on partnerships.
With no funding and minimal growth, partners will be the lifeline of your business, especially in its infant stages.
You're going to have to cultivate the habit of networking and maintaining relationships. Finding strategic partners in your industry to fill the void in your business model is crucial.
It will be a tough undertaking, especially for a new business, but it is not impossible. Once you get your first partner, the process will be easier.
In my case, I needed help with distribution.
We had zero audience and a ton of cool products to sell. Partnering with other eCommerce distributors gave us the solid foundation we have today.
It's important to remember that decision makers are humans, not businesses. Approach them as you would approach a human, not a business.
Finding strategic partners in your industry to fill the void in your business model is crucial.
4. Keep learning.
Never stop learning tools of the trade. Don't get complacent. Technology is ever-changing.
You must always be aware of the changes that are occurring in your industry and use it to your advantage.
In 2014, we were one of the few eCommerce sites that accepted Bitcoin as a method of payment. Taking this position grew the B2C (business to consumer) part of our business by 20 percent.
First movers advantage should be a strategy you deploy in your business.
Remember: You will be the small guy for long periods of time. Moves like this will keep your business relevant.
5. Your health is priority.
This is the most important tip. As cliché as it sounds, if you don't have your health, you have nothing.
You have to become obsessed with your body. You have to essentially behave like an athlete for the rest of your life.
Athletes know their bodies and health are the cornerstones of their contracts. If they're hurt or injured for long periods of time, it affects their payday.
It's basically the same thing with the career of people with chronic illnesses. Know your body, know your triggers and become obsessive about staying healthy.
Know your body, know your triggers and become obsessive about staying healthy.
It's important you know these tips don't guarantee success. In most cases, because of your illness you will be overlooked, undervalued and it will be much harder.
No one will believe you can do it, and when you do, no one will tell your story.
Keep going, don't quit and remember, you did this for you.