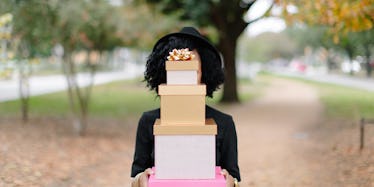 My Best Friend's Wedding: Why I Chose To Forgo The Gift Registry
Growing up in Atlanta, a city with a large Jewish population, I was always jealous of my friends in the Hebrew crew.
They got random days off school, bar and bat mitzvahs were the sh*tzvah (especially if they had ATL's famous turntablist, DJ Black Rabbi, spinning Nellyville and Usher's 8701 on the ones and twos) and best of all, eights days of gifts associated with Hanukkah.
The gift giving practice of receiving multiple days of presents from one person sounds awesome. And come to think of it, it also sounds a lot like the gift giving practice of weddings.
I'll preface this post by admitting I know as much about wedding etiquette as I do about converting to Judaism (read: אף אחד, Hebrew for "none").
If I were to plan a wedding now, guests at the reception would likely enjoy a Chick-fil-A nugget tray next to my vodka luge ice sculpture.
As more and more of my wife-material mates are starting to settle down, I'm learning to better navigate nuptial Ps and Qs and shower social graces with every engagement.
(Note to self: Irish exiting a "Monograms & Mimosa" brunch to puke up last night's tequila is frowned upon.)
With engagement parties, bridal showers, stock the bar parties (save the date for mine next Friday) and bachelorette parties, wedding season for women becomes a multi-party marathon that can be hard to keep pace with. And I'm talking about the proper protocols, as well as the proper presents.
But even with my lack of wedding knowledge confirmed, there is one question I can't be the only 20-something wedding guest asking: Am I expected to bring registry gifts to all of these pre-wedding parties?
First, let's talk about showers.
The whole purpose of these conclaves of champagne-charged clucking hens are to "shower" the bride with gifts.
Sure, there are usually canapés I'll crush and silly games we'll play (and hopefully a boozy punch bowl I'll drink by the ladle to assist in my excitement about the bride's new bakeware set), but everyone knows showers are explicitly a gift-giving occasion to see who got the bride what off her registry.
Unlike the wedding guest list, though, bridal showers typically involve a more intimate group of the bride's closest personal friends and family.
So if that's the case, shouldn't we be giving gifts that are more intimate and personal than salad spinners and pillow cases?
The main event at the shower is watching the bride open gifts. How much more entertaining would candid reactions to unexpected, touching gifts be, instead of rehearsed, tactful variations of, "Wow, thank you so much for the candleholders I picked out. I have such great taste, how did you know these were exactly what I needed?"
Instead of showering a good friend with household goods she might need later in life, what if we bubble bathe her with affectionate offerings she wasn't expecting and didn't clock with a registry gun?
I know gift giving is always a gamble for any occasion, and after all, this time is the bride's one carte blanche to flat out tell you what flatware she wants.
But reflecting back on a good friend's bridal shower last year, I couldn't help but hate giving such a warm friend such a cold gift of Rubbermaid containers.
I try to tell myself she'll think of me when she uses them, but unless she's storing leftover turducken (which is what we ate at our faux-Thanksgiving feast during the summer we lived together at the beach, when she met her now-husband), it's tough to make Tupperware sentimental.
If it wasn't for the fear of being the one unorthodox guest going off the registry, I would've loved to shower bubble bathe her with a new honeymoon bikini to add to her insane swimwear collection, or gift her with new wedding-photo-ready Laura Mercier makeup I know she treasures.
Maybe this is a selfish gift giver's standpoint, and I might feel differently if/when it's my chance to unabashedly blast a scanner gun at whatever sh*t I want.
But, I will note I'm batting a thousand after going off the registry base with a sentimental gift for my best friend's bridal shower.
For the wedding, I did give them their registered chopping block (so her chef husband wouldn't put me on the best friend chopping block), but it wasn't the cutting board that made her cry.
It was the custom coasters of scenes from both of their hometowns and the large framed photo of the park we grew up in, the same park she said "I do" in.
It was a high risk, but it was a high reward when she teared up after (carefully, without breaking the bow) tearing it open at the bridal shower.
(At least, I think those were tears of sentimentality, and not tears of disappointment that I didn't get her a mandolin slicer.)
So, as I sit here on my good friend's registry that prompted this article in the first place, I wrangle with the limited options left in my price range.
I can either choose three placemats (maybe I can say three is symbolic for the three years we lived together in college, not because I can't afford four), or one soup bowl (which is one $80 soup bowl this fun-loving, boozy couple will likely eat $.80 ramen out of when they're hungover).
But in fear of swerving from nuptial norms and breaking pattern by not giving china patterns or other registered gifts, I'll say screw it and hit them with the Target gift card.
I know gift cards are the least personal gifts, and they'll probably still buy that boring cake platter they won't use for another 10 years.
But maybe, just maybe, there's the chance the couple I know and love will put it toward his and her cases of the Bud Light I know they really want this wedding season.