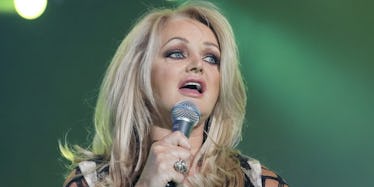 Bonnie Tyler Singing "Total Eclipse Of The Heart" For Today's Eclipse Will Make You Fall Apart
Shutterstock
The first time I heard Bonnie Tyler's "Total Eclipse Of The Heart," I was at a communion party with some of my parent's closest friends. It's fitting that the first time I heard this song, I was with people who were cool in the '80s, as Bonnie Tyler is your quintessential '80s rock star, with big, blonde hair and a raspy voice. Although her hit song came out in 1983, it still resonates with so many people, which is why Bonnie Tyler singing "Total Eclipse Of The Heart" in 2017 during one of the most extraordinary astronomical events of our time is extremely fitting.
Today, Tyler sang "Total Eclipse Of The Heart" with DNCE while aboard the Royal Caribbean's Total Eclipse Cruise, literally as the solar eclipse took place. Check out some videos of the performance below:
Michael Bayley, Royal Caribbean International President and CEO, told USA Today that Tyler was a "natural choice" for the entertainment on the cruise. "As we set sail along the eclipse's path of totality, Oasis of the Seas will be the one place in the world where people can see DNCE and Bonnie Tyler perform her record-breaking single 'Total Eclipse of the Heart,'" he said. "It's hard to top a live performance by a musical legend on such a historic day."
This is such an important moment in our culture. And Tyler is certainly reaping the benefits of this whole thing, too: "Total Eclipse Of The Heart" hit number one on iTunes today, and as of early Monday afternoon, the music video, which was posted on YouTube in 2009, amassed over 305 million views.
The song was nominated for a Grammy for Best Female Pop Vocal in 1984, and now it is earning her some extra clout in 2017. (Not that she needed it, anyway. The woman is a damn legend.)
Now excuse me as I belt this song every day in the shower for the rest of the week.