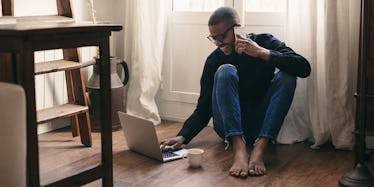 7 Ways You Can Turn Your Blogging Hobby Into A Full-Fledged Business
Mostly everyone who starts blogging has the goal of turning his or her efforts into a source of residual income. Very few realize this goal, however, for several reasons.
Generally, bloggers are impatient and unrealistic in their expectations. They want to start making money right away, despite not having a loyal following or an established Internet presence. Bloggers also tend to rely on the wrong methods of generating income (such as Google AdSense), and get frustrated when they don't work out.
To be clear, after a year of incorporating Google AdSense onto your site, you may earn enough to buy yourself a cup of coffee. Maybe.
So, what can bloggers do to monetize their site and get some extra cash? Read on for seven tried and true strategies you can start implementing today:
1. Participate in affiliate marketing.
Many brands offer affiliate programs. You provide links to their products on your site, and you receive a portion of the profits from every sale made from your link. This is the best way to start earning money right away, but only if you focus in on one brand that works for your niche, and that you can promote softly.
For instance, if you're a fitness blogger, you may want to look into Reebok's affiliate program. Post a link on your site, and mention the program occasionally in your posts when you discuss fitness attire.
As long as you don't overwhelm yourself and your readers with affiliate commitments, this could be the start of a long and mutually beneficial relationship between you and a chosen brand.
2. Review products.
One of the biggest perks of being a blogger is getting free stuff. Sign up immediately with Influenster, a program that sends specialized "voxboxes" filled with goodies that match your blogger interests. While they don't pay for your reviews, you can keep all the products for free and start developing sample product reviews on your site.
From there, several websites serve as third party facilitators between you and other brands, such as Exposely, Tomoson and BrandBacker, to name a few. These sites all keep a network of influencers and brands, and they send out periodic notifications relating to campaigns that might suit you. The idea is that with experience and a growing following, in addition to getting the product for free, you will also be compensated for your time.
3. Produce content.
If you're an expert on a topic, tempt guests with a blurb on your site. Then, charge for additional content. E-books, tutorials and guides all have the potential to generate significant income.
For instance, if you know you're the queen of eyeliner, write a short post on how to do a basic cat eye. Then, prompt your readers to buy your master eyeliner manual for a reasonable fee. You can also offer a two-week Internet course that covers the same content.
The more established you are as an expert in your field, the higher your chances of success will be with this method.
4. Provide consultation services.
Are you a life coach? Fluent in another language? Really savvy about fashion? You can charge for your instruction and consultation. Use posts to generate an audience, and then offer your personalized services at an additional cost.
You can Skype with your clients to coach or teach them as your schedule permits, or you can set up a WhatsApp number to offer your opinion and advice via text message. This can be done regarding everything from clothing advice to gardening solutions.
5. Sell your used products.
If you're a fashion blogger, you can't post about the same outfit more than once. This probably leaves you with a closet full of clothes, and the potential to make a lot of extra money.
Check out online resale markets that specialize in designer apparel, including Poshmark and SnobSwap. With a little photo magic and persistence, your clothes will literally pay for themselves.
While you can't sell used makeup, this is a viable income stream for things like electronics and furniture as well.
6. Join groups of bloggers with similar interests.
When a brand is looking to start a massive campaign, it will want to deal with one organization, not a million individual blogs. For instance, Neutrogena recently reached out to Latina Bloggers Connect in an effort to target Hispanic women in its marketing.
The easiest way to get informed about these opportunities is by being part of a targeted community. If you know you blog about certain topics, seek out organizations that are meant to bring together people with similar interests. You can find groups targeted to women, mothers, food bloggers, lifestyle bloggers, Millennials and more.
7. Freelance.
If you're blogging just to share your thoughts about life, freelance writing may be your thing. Submit your articles to as many major websites as possible, regardless of whether they pay you for your posts or not.
You can find the contact information for all major news or media outlets right on their websites: You just have to do a little digging through the "Contact Us" section. Eventually, as your work gets published and grows in popularity, others will contact you directly about being a contributor. This will usually be with monetary incentives.
With these seven methods, any blogger can start making money right away. Worst-case scenario? You will get free and discounted stuff. It's a win-win.