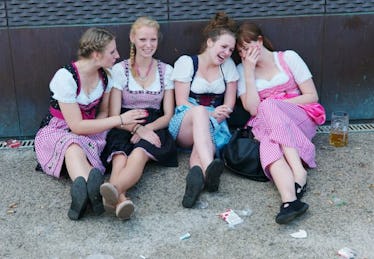 6 Best Oktoberfest Costume Ideas For The Broke Girl Squad
Johannes Simon/Stringer/Getty Images
Lately, all the hot gossip has been circulating around Halloween. What costume should you wear? More importantly, what costume should your fur baby rock this year? What's the best way to DIY your costume without totally breaking the bank? There's no doubt these are all valid questions. But let's take a quick break and talk about something else approaching rather quickly, shall we? Oktoberfest officially begins on Saturday, Sept. 16, and lasts until Tuesday, Oct. 3. That's why you and your BFFs need to get on the bandwagon with the best Oktoberfest costume ideas, like ASAP. If you're not entirely in the know about what Oktoberfest is, don't worry, because I wasn't clued in beyond the dressing up and drinking beer part, either. Oktoberfest is the largest beer festival in the world, and although Munich, Germany is where the heart and soul of the party lies, places all over the world celebrate it, all while dressed in traditional dirndls and lederhosen. Sounds like fun, amiright?
But hold up, because there's that sneaky little issue of the price tag that always seems to stop us in our tracks. When you get caught up in the excitement, the festivities, and, obviously, planning the perfect Instagram pictures, the last thing you tend to think about is, "Is this in my budget?" But once you do, it really hurts your wallet and your plans. The entire squad can most likely relate, because none of us really want to overspend on a day's outfit.
Luckily, the Internet has offered a solution to having a bomb AF time with your squad while saving in the bank. A few hours doing some searching on the web can give you more affordable and super cute costume ideas than you even know what to do with. I already did the hardest part of the game for you, aka, finding the best, most affordable costumes. These six outfits are cute, fun, and most importantly, your bank account won't want to scream out in fear when it comes time to check out. So, round up the girls and get planning, because no one will be able to tell you budgeted for these costumes. Pro tip: Try not to blow the extra cash on the day now that you've saved on your costume.
1. Be The Belle Of The Ball In This Tea-Length Blue Dirndl
US Cheer Lady Traditional German Dirndl Fraulein Fancy Dress Oktoberfest Costume, $24.65, Ebay
If you already know you'll be too cold hitting up the bars in a skirt, don't fret. This tea-length blue costume sounds like the perfect match for you. At this price, how could you not love it? Break out your ballet flats, and call it a day.
2. This Red Checkered Dress Is Too Adorable
Bavarian Traditional Dirndl Fancy Dress Oktoberfest German Beer Girl Costume, $23.91, Ebay
In case blue isn't your thing, this red checkered dress is just too cute for words. Imagine your whole squad decked out in option number one, and this one. You'll be set to conquer Oktoberfest in no time.
3. A Red Corset Is Calling Your Name
California Costumes Women's Bavarian Bar Maid Costume, $24.80+, Amazon
Looking for an outfit where you can incorporate your favorite pair of knee socks? This may very well be the costume for your girl group. The red corset is the cherry topping to the ensemble.
4. Go All Out In Green, And Puffy Sleeves
Mystery House Costumes Bavarian Girl, $24.99+, Amazon
Puffy sleeves FTW. The green color is classic, as well as the puffy sleeves. Add some cream tights to protect your skin against the crisp fall breeze, and you're all set.
5. If A Dirndl Isn't Your Thing, Go For The Lederhosen
Leg Avenue Women's Little Miss Lederhosen Costume, $19.99+, Amazon
This costume idea is perfect for all of the activities you and your squad have planned. If dirndls aren't really your style, go for the lederhosen look. You can also get creative and make this outfit with some of the things you already have in your closet.
6. Bring On The Pink With This Multi-Colored Set
Dreamgirl Women's Heidi Hottie 9-Piece Corset Style Dress, $18.48+, Amazon
This set includes the dress, hair bows, choker, shoulder straps, leg garters, and sleeve puffs. My favorite part about this costume is the floral accenting. If you want to wear tights, a pair of white or hot pink ones will do the trick. Get those combat boots out, and you're ready to hit the road.