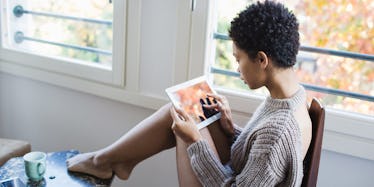 3 Apartment-Hunting Apps That Will Save You From Having A Meltdown
I currently live in a comfortable apartment an hour's drive away from Chicago. The neighborhood I live in has an almost non-existent crime rate, the forest preserves are plentiful and the rent is affordable.
However, I recently got a new job, and the commute is slowly taking days off my lifespan. I currently drive a little over an hour to get to work, which means I drive a little over two hours a day.
With that being said, I have been downloading rental apps like nobody's business. But with all of the downloading, there has also been plenty of deleting, especially when I feel an app is too cumbersome or downright terrible.
I want to keep my search simple, so I have narrowed down my three favorite apps. I chose these three apps based on how user-friendly they felt. If I don't enjoy sifting through hundreds of irrelevant options to find what I need, then I bet you don't either:
1. Zillow Rentals
You can choose from the original Zillow app, which lists both real estate for sale and rentals, or you can go with Zillow Rentals, which kicks out all the real estate sales and just provides you with the rental info you need. (I mean, really, who is buying a house at the age of 22 these days?)
All you need to do is type in the name of the area you are interested in, and the app will show you a map with available rentals showcased as purple dots. I love this because I can immediately eyeball the locations and see which places are closest to the highway, which ones are by forest preserves  — I am a runner, so I fanatically search out forest preserves places with trails — and most importantly, how far my work commute would be.
When you click on a dot of interest, the apartment's image pops up, along with details regarding square footage, price, address and date of listing. You also have the option to "favorite" apartments that catch your fancy.
Looking around different areas? Don't worry; Zillow lets you save your search filters, so you can come back and reassess your choices after picking out your favorite options.
2. Trulia
Trulia showcases a Google Maps view, with green bubbles representing available apartments. It has the same basic features as Zillow, but it also has added perks, like the ability to see the crime rate, affordability and schools in your area of interest.
This app also has a Pinterest-like feature, where you can group your favorite apartments into boards and share them with family and friends. (Who doesn't choose a pad without at least first getting the opinion of his or her BFF?)
As the proud pup parent of a 30-pound Basenji mix, I really appreciated the option to filter through apartments that only allow small dogs and those that allow dogs of all sizes. Other apps I have tried have filters that show which apartments allow dogs, but they don't specify the dog sizes the apartments accept. To be honest, I don't want to show up to a leasing office, ready to check out a potential new place, only to find out my dog isn't welcome.
3. HotPads
Simple and easy to use, HotPads has the same maps overview as the other options I have reviewed, but with its own unique twist. When you click on a place you want to check out, HotPads provides you with real-time numbers regarding the last time the listing was updated. Few things are worse than falling in love with a place online, only to call and find out the listing is a year old.
Simplifying things even further, you can contact the agency or landlord in charge of the property straight from the app. One unique feature is the popularity tab, where HotPads tells you how many times the property has been viewed in the past week, how many times the apartment landlord or management has been contacted and even when.
Zillow, Trulia and HotPads are my go-to tools for my apartment search. These apps help direct me to places that fit my budget, in the criteria I want.
As this is my second apartment search, my advice to newbies is this: Know your budget, read the fine print and weigh in all the angles of your decision (commute to work, distance from friends and family, etc). Happy hunting.