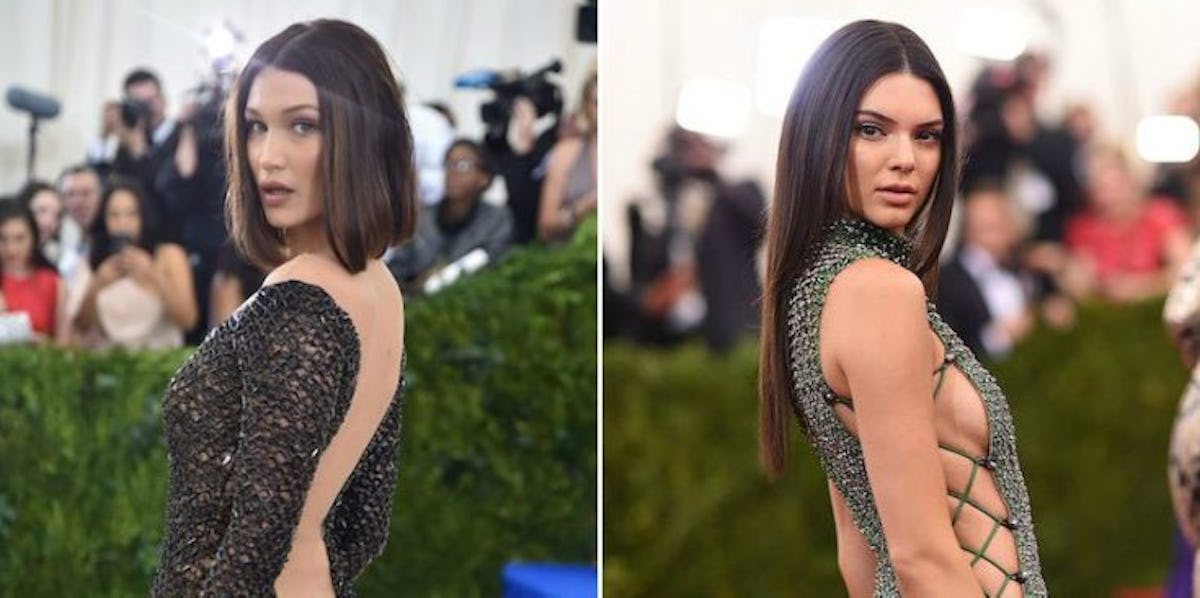 Bella Hadid And Kendall Jenner At "Wangfest" Are All Of Us On New Year's Eve
Getty Images
Designers draw inspiration for their clothing from all around. A trip to a faraway land, a spice in a culinary dish, and of course, every other single thing that's already been designed. As Edward Norton said in Fight Club, "everything is a copy of a copy of a copy." But for his fall 2018 fashion show, perpetually-hip, cooler-than-cool fashion purveyor Alexander Wang was inspired by an entirely unexpected entity: you and your friends on New Year's Eve. I know, I know, you probably didn't even know your squad was exerting this kind of influence over one of fashion's week top designers, but then again, duh. Wang sent Bella Hadid and Kendall Jenner in NYE-style party hats, proving that even wealthy, iconic celebrities want to be us when we go out.
Bella and Kendall weren't the only models-as-regular people on display at Wang's fashion show. Famous women like Candice Swanepoel and Kaia Gerber brandished such pedestrian, attainable fashion as denim shorts over leather pants. But it was the real-life bestie pair of Bella Hadid and Kendall Jenner in matching, black, going-out dresses and feathered party hats that looked especially, oddly, familiar. Why, you ask? Because they are all of us.
Kendall and Bella were decked out in silky but plain LBDs, backseam stockings, tiny black clutches, and hats that read "Party Animal" and "Wangfest." Now, if that's not the spitting image of you and your BFFL on New Year's Eve, I don't know what is. And that's precisely the point. The intention was to depict real women dressed up to go out — and go hard.
"Wang was not only able to capture the look of a young woman in the wee hours after a night of rowdy partying — the mussed hair, ripped fishnets, disheveled too-short dress — but also the attitude. In those early shows, the audience could practically smell the stale beer and cigarettes of this fantasy night of debauchery," wrote The Washington Post. While I can't recreate said odors, you can just sniff a party at 3 a.m. and check out some of the finale footage of Kendall and Bella stomping around, below.
The name of the show was "Wangfest," a term I'm sure was plucked right out of your group text the morning after one of your best friends got laid. Wangfest took place in two outdoor locations, with the first show on Lafayette Street in NoLita, in lower Manhattan. After that one wrapped up, the models boarded actual party buses to get to the second show and after-party in the Bushwick neighborhood of Brooklyn. Not only did Wang send his employees on the most basic form of party transportation, he treated them to Budweiser beers out of inflatable pools and mass amounts of Dunkin' Donuts. The Wangfest soundtrack consisted of performances by Ja Rule and Ashanti, definitely designed to play the heartstrings of early 2000s girls everywhere. Honestly, switch the words "performances by" to "karaoke of," and you've got a typical college rager.
Some fashion critics weren't there for the banality of the spectacle. Women's Wear Daily wrote: "Somewhere along the way, Wang's obsession with cultivating a brand image of partying has trumped his interest in design. The collection shown Saturday night was such a side note to the unwieldy, confusing event, it's barely worth discussing." The Washington Post felt it was "disheartening that a designer with an incredible eye for culture and style seems more focused on the quality of his after-party than the collection that party is celebrating." So basically, the high-fashion culture is kind of mad Wang dressed his models like all of us stumbling from club to club in the wee hours of the morning.
Personally, I feel like if I have to to try and look hot while walking concrete streets in heels, I'm glad Kendall and Bella do too.