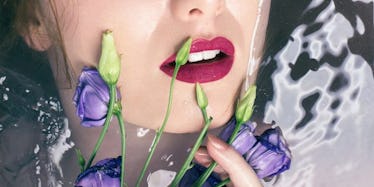 The Beauty Product You Can't Live Without, According To Your Zodiac Sign
Maja Topkajic
Sometimes we turn to astrology for the secrets to our inner soul, and other times it's just for fun. This is one of those times.
I decided to take all I know about astrology and instead of diving deep into your souls (my fave thing because I'm a Scorpio stellium) today I'm gonna keep things light and fun.
Here are the beauty products you most likely can't live without based on your zodiac sign.
Aries: Long-lasting mascara
Rimmel Lash Accelerator, $7, Amazon
Aries needs makeup that can move as fast as they do because they do not have time for upkeep.
They are larger than life, and they need a mascara that reflects them! Rimmel Lash Accelerator lasts long, and comes on fast, just like an Aries does.
Taurus: A good wax
Bluezoo Waxing Kit Electric Wax Warmer, $37, Amazon
Taurus is a sensual, earthy sign and they love anything that is smooth to the touch and that stimulates their senses. The Bluezoo Waxing Kit with hard wax beans will give them the soft, smooth skin they love, and the ritual will be calming for this sign, who loves to be pampered.
Gemini: Nail polish
Essie Summer 2017 Mini Kit, $18, Amazon
Geminis are ruled by the hands, and they fear commitment, which is why getting one nail polish could never be enough. This is a crafty, creative sign.
Give them four colors, like the ones in Essie's Summer 2017 Mini Kit, and they'll find a way to use them all.
Cancer: Body butter
Native Allure Whipped Pomegranate Body Butter, $23, Amazon
Cancers love to nurture and be nurtured, so they need a product that allows them to do both. This body butter is the perfect way to moisturize after a bath, and Cancers can rest easy knowing that they're using a product that is vegan and cruelty-free.
Not to mention there's nothing that makes Cancers more comfortable than something they could make in their own kitchen.
Leo: Hair mask
L'Oreal Paris Hair Care Expertise Everpure Repair and Defend Rinse Out Mask, $6.50, Amazon
A Leo can be identified by one singular feature: their long luxurious locks of hair, and their unadulterated love of it.
They need something that allows them to go the extra mile when it comes to grooming. L'Oreal has a sulfate-free mask that is formulated with antioxidants from acai and goji berries, leaving that Leo mane stronger and giving it more shine than it already had.
Virgo: Vitamins
Lumene Vitamin C+ Radiant Beauty Drops, $12, Amazon
Virgos are practical enough to know that real beauty comes from within, and so to get it on the outside, you gotta start on the inside, sister.
Not to mention, they're so health conscious that taking vitamins is part of their everyday routine. These Lumene Vitamin C Radiant Beauty Drops will fit into that nicely, not to mention give your skin a luminescent glow that you just can't get from a moisturizer or mask.
Libra: A Balancing Moisturizer
Eminence Organic Skin Care Eminence Balancing Moisturizer Duo, $66, Amazon
If our outward appearance is affected by our thoughts (and I believe it is) then Libra's are most likely to suffer from skin that could use a little balancing.
Lightweight, refining moisturizer for combination and oily skin types, especially acne prone. Cruelty-free and formulated without parabens, sodium lauryl sulfates, animal by-products. Oh, and it smells amazing. 
Scorpio: Retinol
LilyAna Naturals Retinol Cream Moisturizer for Face and Eyes, $19, Amazon
Scorpios are the sign of death, transformation, and rebirth, so they need a beauty product that reflects them. Nothing says reincarnation like the cell turnover that comes from using retinol cream.
Luckily, this one can be used without the outward signs of retinol use, like dry, flaky skin. Not to mention, it's gentle enough to use around the eyes.
Sagittarius: Hanicure Mask
Skin1004 Zombie Pack, $18, Amazon
Sagitarians are blessed with a desire to try new things and a love of traveling overseas, so the new zombie mask inspired by the Hanicure mask out of Korea is a perfect option for this sign. Not to mention this mask will help sooth the fine lines and wrinkles that form on the faces of Sagittarius from all that deep thinking.
Capricorn: BB Cream
Marcelle BB Cream, $25, Amazon
Capricorns are always working so hard, shouldering the burden of their responsibilities and fixing everything for everyone who is to incompetent to do it that they need their makeup to do the work for them. Good for all skin tones and types, this BB cream from Marcelle masks imperfections, and infuses complexion with just the right amount of color.
Self-adjusting pigments even out skin tone, minimize the appearance of pores and blemishes, promote skin renewal, and protect against environmental factors, like the stress that comes from being so perfect.
Pisces: Bath Bombs
Lush Intergalactic Bath Bomb, $17, Amazon
Pisces are an other-worldly water sign with their heads in the clouds.
They need a beauty product that allows them to withdraw from the real world into the world of their imaginations, so they can be free to daydream without thinking about their beauty routine.
Lush has an intergalactic bath bomb infused with peppermint that turns your bath into a stargazing psychological trip to wonderland.