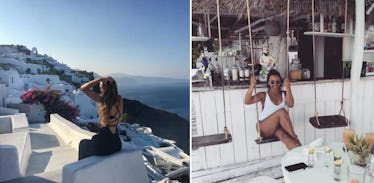 8 Beautiful, Underrated Places To Wander When You Need To Find Yourself
Instagram
If you feel as though you're going through the daily motions of life like a robot, there's probably something missing.
You've crossed off all of the necessary essentials on your bucket list, but maybe you still feel like you haven't grown as an individual.
Sure, you're doing everything you SHOULD be doing at this stage in life, but you're not making time for the things your inner self truly desires.
Sometimes, in order to really figure things out, you need to wander off the beaten path until you're completely lost, with no map to guide you back to where you came from.
All you'll have is yourself, the money in your wallet and the stunning, new sights around you.
When you need to find yourself, here are eight beautiful, underrated places to wander to.
1. Burano, Italy
If you've lost the color and passion in your life, Burano, Italy is calling your name.
This captivating, vibrant island is located in the Venetian Lagoon. It's the perfect destination if you're craving to color in the remainder of your personal storybook.
2. Interlaken, Switzerland
This Swiss "resort town," surrounded by mountains, forests and rolling meadows, looks like it popped straight out of an exquisite fairytale. If you're an adventurous kind of chick, you'll be happy to know the location boasts a plethora of skiing and hiking trails.
3. Oia, Greece
This picturesque village situated on the top of a cliff (overlooking a captivating view of the ocean) is best known for its blue domed churches and bright white Cycladic houses. You'll experience views like no other from the top, and you'll instantly lose your heart to everything this charming area has to offer.
4. Obersee, Germany
This peaceful, beautiful view of the Obersee Lake will inspire wanderlust in even the shyest homebody out there.
Immerse yourself in this serene, natural wonder to recharge your spirit.
5. Vadhoo Island, Maldives
That's right: This magical place actually exists IRL, and it's dubbed the "Sea Of Stars." When oxygen upsets a micro-organism in the water, the magnificent, sparkling effect shimmers to the surface.
6. Tulum, Mexico
Ah, can't you just imagine swinging all day long at the beach bar in a sunny, tropical oasis? Bring on the piña coladas, crystal blue surf and white sand… and keep them coming.
7. Baños, Ecuador
While we're on the subject, this particular swing overlooking the "Gateway to the Amazon" looks like a seriously spectacular ride. Baños is home to hot springs, waterfalls and endless possibilities.
8. Reine, Norway
This charmingly beautiful fishing village on the Lofoten Islands is the prime place to escape from it all. Its population is a bit over 300 residents, and iconic white and red fishermen's cottages complete the remarkable view of the shoreline.
There's something exciting, and simultaneously frightening, about jetting off alone to a new destination. But we all need to cross it off of our bucket lists at one point in life.
Embrace the unknown, and have fun finding yourself along the way.