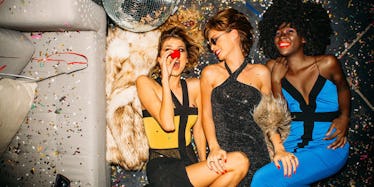 Here Are 5 Tips To Make Sure You Survive Your Friend's Bachelorette Party
Every bachelorette party should be epic and unforgettable for the bride-to-be. She'll remember this celebration with her squad forever and so will you. What better way to celebrate the lead-up to her wedding day than going all out with extraordinary plans and details that she'll totally fall in love with?
Whatever kind of bachelorette party festivities you decide to organize for the bride, don't skimp on the details... which include what you should be doing prior to the bachelorette party fun.
Your squad should be fully prepared leading up to the celebration and throughout the party itself. To ensure your bride-to-be has the best time ever, it's important she, along with her surrounding girl squad, survives the evening in one piece.
If it's a weekend-long extravaganza, all of you probably don't want to be hungover messes the following day after a crazy night out. You want to bring on the fun vibes all weekend long and enjoy the events you have planned.
I'm here to help all of my gals out. I came up with a few survival tips so that you have a lit time at any upcoming bachelorette party.
1. Chill and relax the day before.
A bachelorette party requires all bridesmaids to be fully rested... or close to it anyway. You want to give this your all, especially for your bride-to-be because she deserves it!
Bachelorette parties are all about fun, fun and more fun. Rest up in style so that you're in the prime mood to live it up and have a great time with the gals. Massages, manicures, facials and pedicures are restful activities that were made for luxurious pre-bachelorette celebrations.
2. Don't forget to stay hydrated... in style.
Okay, we know that you're going all out at your bride-to-be's bachelorette party. A major part to lasting the whole night and not ending up hungover and miserable the next morning is to drink... H20.
You can even decorate creative water bottles for the entire squad to enjoy. It's time to get your Pinterest on... this will certainly come in handy!
Something motivational like this could definitely set the tone for the night.
3. Have a survival kit handy.
Each bridesmaid's emergency kit should be with her throughout the bachelorette party weekend. Some ideas to include are silk eye masks, cold compress, water bottles, Band-Aids, Tic Tacs or gum, tissues, Advil, travel-sized toothpaste and toothbrush, Tums, nail file, small lint roller, hair ties, bobby pins, hairspray and chocolate, of course.
Come on, how adorable are these?
4. Prepare some delish snacks before going out.
When you're relaxing with your squad, sipping on some wine before going out...don't forget the fuel! Pinterest will certainly give some serious inspo if you want to make bachelorette-themed treats. Snack away while you're getting all dolled up and ready for an epic night out.
5. Invest in fun swag to have a lit party.
Let's be honest: what's a bachelorette party without some sick swag? Although this isn't a major survival point for the evening, it's an important part of creating the overall vibe for the evening.
This is something fun and funky the bridesmaids can do as a surprise for the bride. It will also show everyone around that they're part of the bride's team for the night... to take care of her and make sure she has an epic time that she'll remember forever.
Matching boxer shorts and tanks, bathrobes, crowns and slippers are all great elements to consider for the bride and her squad.