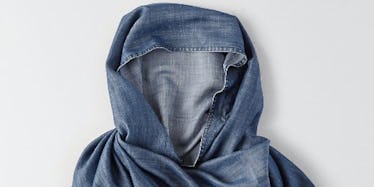 American Eagle Launched A Denim Hijab And It's Absolutely Beautiful
American Eagle
Inclusivity may be a major cultural talking point right now, but it's no passing trend. After all, it's the most accurate representation of our day-to-day lives, and it's time to blast that idea into the mainstream.
American Eagle aims to do just that with its denim hijab, which just launched and is available online now for $19.95. The company's latest ad campaign features 19-year-old model Halima Aden sporting the hijab and smiling widely with her signature braces-filled grin.
Aden is an American-Somali model who started out as a Miss Minnesota contestant, went on to walk in the Yeezy Season 5 fashion show, and recently graced the cover of Allure. On her Instagram, Aden wrote of the American Eagle campaign,
Thank you @americaneagle for encouraging young America to follow their passions, express their individuality, and pursue their unique paths.
Although this is the first hijab sold by American Eagle, the company is no stranger to inclusivity. In 2014, American Eagle-owned lingerie brand Aerie pledged to stop retouching photos and began using body positive models like Iskra Lawrence in their campaigns.
Since paving the way in this respect, the company has seen a 32 percent increase in sales, according to Business Insider. Aerie also plans to open 50 new stores in 2017, when many other brick-and-mortar retailers are closing up shop and moving to online retailing.
The latest American Eagle campaign, featuring Aden, Lawrence, and rapper Joey Badass, is also completely free of Photoshop.
Social media response to the American Eagle hijab has been mostly positive, though some women are unsure about the decision to use denim fabric.
Some Twitter users and hijab wearers have pointed out that they would never wear denim, likely because of its lack of breathability.
But overall, response to the item has been positive, which is encouraging to see.
Though mainstream companies and the fashion industry have a long way to go to be fully inclusive, it's comforting to know that positive changes like those Aerie made can actually mean profit, which will hopefully encourage other companies to follow suit.
And for teens still trying to figure out who they are and understand the world they live in, seeing more representations of all bodies and religions in mainstream fashion will only make growing up in this turbulent world that much easier.