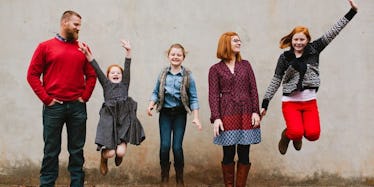 We're Actually More Sexist Than Our Parents, According To Infuriating New Study
Erin Drago
Here's a healthy dose of hope for your week.
The results of a recently released study done by sociologists Joanna Pepin and David Cotter for the Council on Contemporary Families found that millennials are not as forward-thinking as the generation before us when it comes to women and households.
The study, which comprised of a nationwide survey given to high school seniors conducted by Monitoring the Future, found that the percentage of high school seniors believing in traditional gender roles has risen.
The study, which has been conducted every year for 40 years, asked high school seniors in 1994 if "it's better for everyone involved if the man is the achiever outside the home and the woman takes care of home and family." The majority (58 percent) of them disagreed.
However when that same sentence was presented to high school seniors in 2014, only 42 percent disagreed.
In a different study with only male participants, cited by The New York Times found that in 1994, 83 percent of young males did not feel that a male-breadwinning family was superior. In 2014 that number was down to 55 percent.
Then the survey asked the high school seniors whether or not they agreed with the statement proposing "the husband should make all the important decisions in the family." In 1994, 71 percent said that they disagreed, while on 63 percent disagreed with the statement 20 years later.
These numbers perplexed Pepin and Cotter, because when asked questions about cultural gender equality like"women should be as seriously as men for jobs as executives or politicians," an overwhelming majority agreed.
So, what accounts for this odd juxtaposition in ideology?
Pepin and Cotter posit many potential explanations for this but one of them brings up an interesting conversation. They suggest that because women are rising to more executive roles in the public sphere, it's leading to essentialist thinking in the household. Because men and women are approaching equality in the work place, stereotypical gender roles are resurfacing in the minds of young millennials.
The Times suggests that it has to do with millennials recognizing the difficulty of having a two-breadwinner household. The study they cite took a poll of 22 European and English speaking countries and found that the disparity in happiness between parents and non-parents was the highest in the United States – most likely do to the lack of laws necessitating a balance between work and life.
So, you know, keep your heads up, I guess.
Citations: New York Magazine, The New York Times