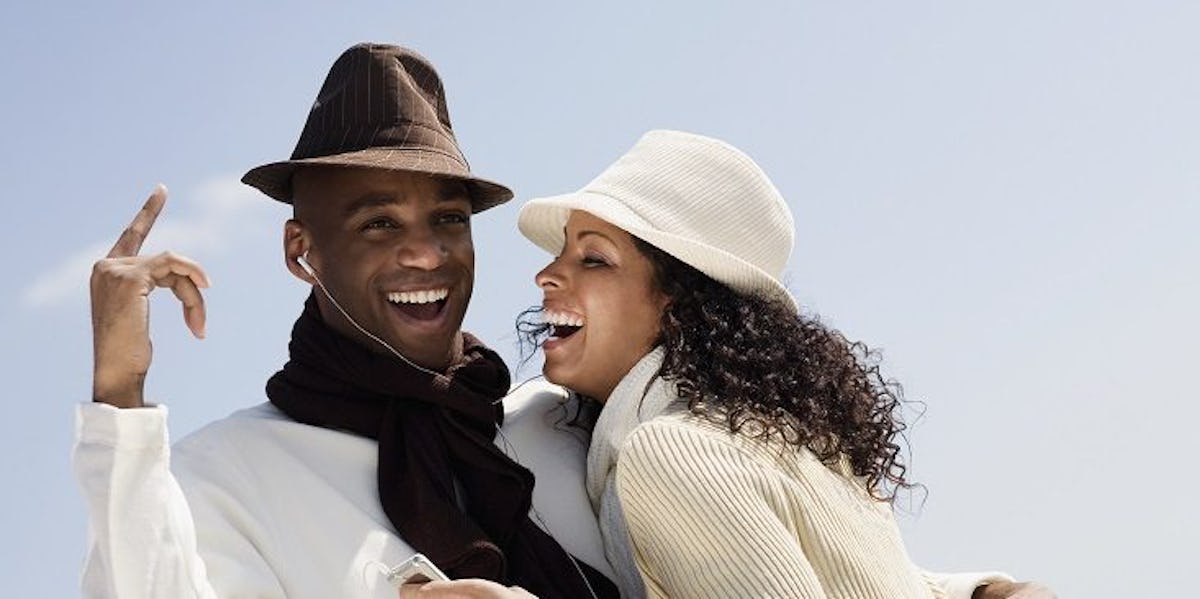 The Ultimate 90s R&B Playlist That Will Keep You Snuggled Up With Bae This Fall
Blend Images/ Shuttershock
Where on earth would we be without the power and influence of awesome music? Don't let this upcoming fall season pass you by without taking a stroll through the musically passionate past of 90s R&B music. Whether or not you can hold a tune or not, the 90s will have you singing along to the lyrics of heartbreak and sensuality.
A 90s R&B playlist is exactly what you need to stay cuddled and close to your bae all season long. It's a blast from the past that sets a romantic and nostalgic mood while you're having a picnic in the park. Even if you don't have the same taste in music, these songs can seriously bring any two differing views together. So, before you reach for the current top 20 hits, think twice, and leave it to the music predecessors.
1. "Pony" by Ginuwine
This song really is a classic. And even if it still carries over as a heartthrob for the ladies, when that beat drops, everyone knows the rest. So sing along, unless, of course, you get distracted.
2. "All My Life" by K-Ci & JoJo
Did I mention the 90s were so full of bleeding hearts? Musicians literally sang their hearts out and we can not help but eat it up, even today. Can we just go back, please? The 90s were the best.
3. "Nice & Slow" by Usher
Before you start judging the sensuality of these first few songs, think about lyrics from today. There's a lot of straightforward stuff out there these days. It makes you miss when people actually sang about sexual stuff in a super romantic way.
4. "If I Ever Fall In Love" by Shai
Have you caught on to the emotional trend of the 90s yet? Whether is was heartbreak or love making, these artists had it going on. Your mood has officially been set for cuffing season.
5. "That's the Way Love Goes" by Janet Jackson
Janet Jackson is timeless. Don't let her brother Michael Jackson overshadow the hits she also placed in the 90s. So much talent in one family, it's seriously ridiculous.
6. "Sittin' Up In My Room" by Brandy
You can't leave out the teeny bopper tracks of the 90s. If you were a teenager in the 90s, your hormones were probably on the fritz with these classics. I'm not jealous; you are.
7. "Red Light Special" by TLC
One of the most empowering things about a music group full of ladies in the 90s is their grasp on their own sexuality. Their lyrics were seemingly uncensored, and they owned their femininity in their own way. Take full advantage of the freedom with this epic track.
8. "Weak" by SWV
And the lady hits just keep coming. Isn't it crazy how many variations of love can be reproduced over and over in music? Sheesh, love must be a big deal or something, huh?
9. "Always Be My Baby" by Mariah Carey
Mariah Carey was always exercising her amazing pipes in the 90s. Who knew the human body had the capacity to reach those notes? Also, why are all of these titles so straight to the point? It's better that way.
10."Killing Me Softly" by Fugees
Even though this isn't an original, Lauryn Hill's voice is addicting and oh-so unique. It's these slow jams that technically got most of us millennials here, anyway. Remember, the power of music is so damn strong.
11."I'll Make Love To You" by Boyz II Men
Last but not least, 90s music groups of men were comprised of such heartthrobs. You're entranced by every word and can't claim responsibility for what happens next. You're with bae, right?
A 90s R&B playlist is one the most timeless accumulations of music. Fall couldn't get any more cozier with these tracks, because music is just great for our health. So, cuddle up, and let the music do the rest.