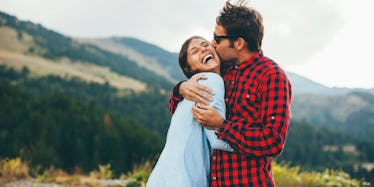 Cuffing Season: 9 Reasons Why The Cold Months Put Us In A Loving Mood
Walking down the street in the cold night air, wrapped tightly in layers, cradling a warm drink with mittened hands, all the while surrounded by thousands of twinkling lights — it's picturesque. The holiday season is finally here.
There's just something about this time of year, with all its jazzy jams, flickering fires and sparkling scenery that makes us feel warm and fuzzy, and maybe a little hot and bothered, too.
As we get older, the holiday season becomes less about toys, Santa and scoring prime real estate for your personalized ornament on the tree; it takes on a whole new essence. We go from eggnog to cocktails, footie pajamas to spikey knee-high boots, holly to mistletoe.
We grow into a different kind of Christmastime, one with more romance and unzipping, rather than unwrapping.
Here are nine reasons why the holidays get us in the mood for more than just milk and cookies:
The Romantic Commercials
The jewelry store commercials where Prince Charming pops the question under the mistletoe secretly get to every girl during the holidays. It's been embedded in our minds that the holidays are the perfect time for extravagant expressions of love.
Imagine a couple, huddled together, kissing under tiny falling flakes of snow on a bench in Central Park, and suddenly, the boy reaches into his pocket for a little blue box.
We can stop there because you're already melting just thinking about it.
Dressing Up
We get excited to dress up in little black or red dresses, sheer tights and stilettos to go out to dinner or holiday parties. The holiday color pallet: red, black, deep green, gold, anything sparkly — they all hint at sophisticated seduction, and we love it.
We dress to impress our boyfriends and possible one-night suitors in hopes they'll be enticed to strip us down by the fire later on.
Because Sexy Santa Lingerie Is A Thing
Just like Halloween, there are festive costumes for those who like a little mild role play to fit the season. "Santa's Little Helper," Dancer, Prancer and Vixen — it all sounds sexual.
What better way to end Christmas Eve or start Christmas morning than waking up to sexy Mrs. Claus and her reindeer whip she uses on Santa after he's done making his rounds? Cue "Santa Baby."
It's The Season For Giving
Everyone's in the mood to give presents and spread cheer, and of course, give his or her partner a little something extra on the side. No need to run downstairs to look under the tree when you can just lift up the blankets.
The Luminous Atmosphere
Just like candlelight gets people in the mood, so do the millions of florescent lights against the night sky entwined in tree branches and dangling from roofs. Cozy lighting goes with romance, and its everywhere in December.
Drink And Be Merry
We can't resist those sweet, seasonal alcoholic beverages that, in turn, lower our inhibitions and land us in bed with coworkers after the holiday party. Oops.
The Holiday Season Is Amidst Cuffing Season
Seeing everyone else paired up with the December version of his or her Valentine is enough to induce some serious desperation.
So, we try even harder to find someone with whom to share a blanket and warm our frostbitten hands.
All I Want For Christmas Is You
Because the season is so commercialized with all its gift-getting madness and "me, me, me-ness" going on, we end up putting romance and sex on our holiday wish lists, too.
We may want those things all year, but we really want them when the year comes to a close.
This is also because, when we get older, we start to desire things that can't be bought. Mariah Carey couldn't have said it better.
Baby, It's Cold Outside
It's freezing outside; we're stuck indoors with hot chocolate and crackling fires, and we've watched everything on Netflix.
So, knocking stockings sounds like the best thing to pass the time, 'cause, baby, it's coldddd outttt-SIDEEEEEE!