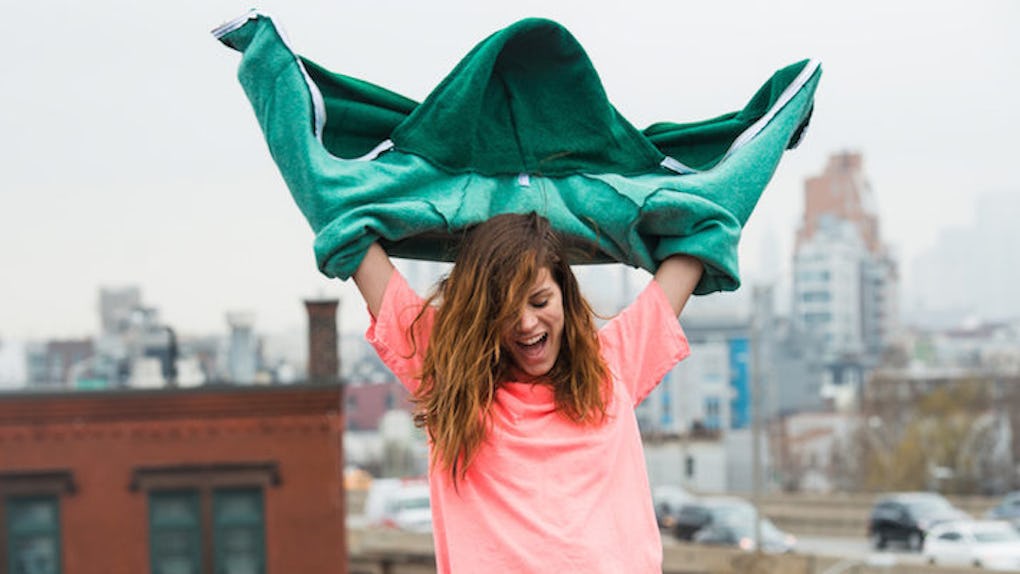 Lauren Naefe
7 Ways To Add Color Into Your Life When You're In A Rut
We've all had those days where we wake up and think, "Ugh, this again?" But there are times those days can turn into weeks, months even.
You get tired of your same old routine. The clothes in your closet look drab. Your commute is starting to grate on you more than usual.
All of your usual hang spots don't seem that fun anymore. You just aren't feeling that zest for life you normally do – everything is shades of gray instead of vibrant color.
Those signs can only add up to one conclusion:  you, my friend, are in a rut.
Don't panic. A rut might sound scary, but it isn't permanent.
The first step to getting out of a funk is admitting that you're in one. Once you do that, you just need to commit yourself to overcoming it.
You don't need to overhaul your entire life to spice things up. Here are a few simple ways to get out of a rut and into your best life:
Try new places instead of being a regular.
When you're in a rut, you're completing the same routine day in, day out, and it can begin to feel like you're (literally) walking through the motions.
You frequent the same coffee shop on your same walk to work at the same time. Every. Day. You hit up the same bars with the same group of friends. Every. Weekend.
To get out of the rut, you'll need to switch up that monotony. Leave home earlier in the morning so you can take a different route to work.
Even though they may not know your order, try a coffee shop in a different neighborhood to get a different vibe.
Catch up with the group of friends you haven't seen in a while – they'll undoubtedly bring you to new places you haven't experienced.
Exploring new places is a surefire way to start breaking your slump.
Change up your exercise program.
The gym is the first thing to hate on when you're feeling stagnant. When you're in the dumps, who wants to endure another half hour on the elliptical, to be followed up by X amount of squats and planks?
That means it's time to experiment with different exercises altogether. Go for a run by a body of water so you can soak up the sun as well as burn calories.
Try a class you wouldn't normally take, like Zumba for the uplifting music, or a boot camp to push yourself. If you have the means, hire a personal trainer to have company and inspiration while exercising.
Not only will you be trying something new, but you'll also have a serious sense of accomplishment afterward.
Clean and organize your entire apartment.
The stuff you've been hoarding in your apartment is astounding. Trust me, you don't need half of it.
Those Christmas cards from three years ago? Those instruction manuals for technology since replaced? Those flared jeans that you haven't worn since 2004? Chuck all of it.
Cast your funk out the window along with the junk you've accumulated and give everything a good scrubbing. It'll give you a fresh start AND a fresh outlook.
Splurge on a new item for your closet or makeup drawer.
Retail therapy is real life.  The feeling of finding the perfect new dress at your favorite store to wear to work or a feminine new perfume to wow your boyfriend with is unparalleled.
It's exhilarating to throw caution to the wind and buy something you WANT, not need. Not to mention, feeling good about the way you look is always a great way to shift your mindset to positive.
Go out dancing.
A rut makes the proposition of staying on your couch and binging Netflix and popcorn super attractive. You want to hide away from the world and drink your wine in peace.
But you need to fight this inclination to break the slump, and you'll never regret forcing yourself to go out dancing.
Instead of focusing on the state your life is in, you let the music course through your body and take you away.
Plus, you never know who you'll meet on the dance floor. Maybe it'll be another group of super fun girls, or a handsome stranger who knows how to shake his hips AND shake up your life.
Take a spontaneous trip somewhere you've never been.
A foolproof way of digging out of your rut-sized hole is to change your surroundings and go somewhere totally new. Dip into your "rainy-day" funds and plan a spontaneous trip.
It can be a simple weekend trip to that adorable, nearby town you've wanted to explore, or a week-long excursion to a foodie city or all-inclusive resort.
Either way, a trip is an unforgettable way to switch things up. And often, once we're out of our everyday surroundings, we start to realize the good things we have in our lives at home.
Force yourself to be positive until you actually are.
Fake it 'til you make it is more than a phrase, it's a way of life. When all else fails to end your rut, it's time to force yourself to be positive.
Start your day by taping motivational quotes to your mirror to read as you get ready. Wear bright colors as a constant reminder of happiness.
Smile as you walk down the street to elicit smiles from others. If you're exuding positivity in your attitude, you'll start attracting the positivity around you.
The more encouragement you bring in, the more likely you are to start feeling engaged with the world around you.
You'll realize that there's too much this world has to offer to be in a rut and start finding the beauty in everyday life.
Life is full of color, if you just look around. Sometimes the simplest things can be the most incredible. Taylor Swift's Incredible Things is a unique, floral and feminine fragrance, born right from her lyrics to inspire the authentic and expressive woman inside of you.