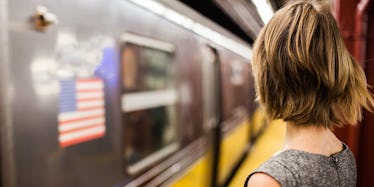 7 Things You Should Be Doing Solo If You're Single In New York
I've lived in New York City for four and a half years now. I've been single for most of my time here. If there's a city you should be single in, New York is it.
I never understood the, "Dating in New York City sucks" sentiment. Are there not people in New York? People are everywhere, at least in a city like this. You have so many to choose from in a city as diverse and populated as this. What could possibly make this dating pool better?
New York City is a city of singles and our living arrangements prove this. A huge chunk of New Yorkers report having no roommates. I don't have one. If I wanted to, I could get through a day without talking to anyone but my co-workers.
The trick is to be comfortable doing things alone. If you're nervous about that, rest easy knowing everyone is too preoccupied with themselves to pay your lack of company any mind.
1. Go out to eat alone.
When eating alone, especially on busier nights, I've been asked to share a table with another solo diner. I once ended up having a two-hour-long conversation and a new friendship developed because of it.
Not only can you try out places your friends would never consider, but you also open yourself up to meeting new people. If you're not quite ready to take on the restaurant scene solo, try going out for a drink instead.
2. Get involved in your community.
One of the best decisions I've ever made was signing up to pass out Halloween candy in my building. As lame as it sounds, I wound up meeting my neighbors, which is rare in New York. Now I talk to my doorman and neighbors on a regular basis.
3. Go to a museum.
People come from all over the world to see the exhibits New York has to offer. You have dozens to choose from and some are even free.
4. Go for a walk.
I like to wander aimlessly around the city, making sure I take a different route than the day before. It passes the time, you explore the city and you get some exercise. Invest in a Fitbit and make a challenge out of it.
5. Join a gym.
Find a more intimate one so you can meet the regulars who are there when you are. I go to a small gym a block away from my apartment. Everyone knows each other and you see the same faces.
6. Go see a show.
Research what bands are in town or go see an open mic night. Buy a ticket and go solo. In general admission, you'll be in a crowd, so no one will know you are there alone. Take the time to meet someone who shares your taste in music.
7. Work on your apartment.
This might be the only time in your life where your place can be whatever you want it to be. Spend good money on furniture and bedspreads and pillows to make it the place you want it to be.
Hang lights. Put up pictures. Warm up your surroundings. Make it a home. Putting effort into your space will make you want to invite others inside. If it's homey, they'll want to keep coming.
If you can gather up the strength to get out the door and socialize, you wont mind being single. This is the greatest city in the world, and everyone here has a story.
One day you will have someone to experience everything with, so for now, enjoy being alone. This is your time to be selfish. Take advantage of your freedom.