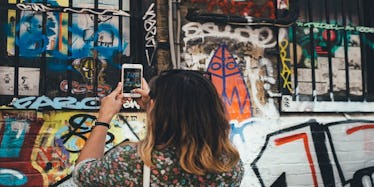 7 Apps That Will Make Your Summer Road Trip So Much Easier
Annie Spratt/ Unsplash
Want to explore all of the options and excitement of a road trip without feeling like you passed anything by -- literally? There's an app for that.
Believe it or not, technology's influence on society can be both a scary and beneficial experience. If you can't beat them, join them, right?
Instead of repelling the scary corners of technology, get a grip... on your phone and utilize what it has to offer.
This summer can be epic no matter where you and your girls choose to trek. Not sure what it is, but there's something about exploring seemingly endless roads when the weather's best that makes you feel like all is right in the world.
So whether you're behind the wheel or riding shotgun there are few apps that will add that extra flare to your ladies road trip this summer.
1. A Girl's Gotta Eat, Right?
With OpenTable, not only do you get to look up cool places to eat but you can also make a reservation if you're out and about. There are reviews that you can look at as well, to see how other people's experiences were.
Yes, we all do it. Finding a place to fork and knife some food couldn't be any easier.
2. Bathroom Breaks Are No Problem
There is nothing scarier than wondering where in the heck you're gonna use the bathroom next. With SitOrSquat, available bathrooms for use are outlined along you're route.
Say goodbye to those times spent wandering random roads in the dark looking for a random gas station. It's still a public bathroom though so, plan accordingly ladies.
3. Gas Saving Anyone?
Sadly, gas prices can be astronomical. And if you're traveling across different states, those prices spike and vary. GasBuddy is your new friend that finds the cheapest gas in your area. Who doesn't like saving a few bucks?
4. Keep Your Eyes On The Road
Ever wish someone had told you about the accident or staked out cop under that bridge? Say hello to Waze. This app not only tells you about accidents, stopped cars and cops but it's by people just like you. Can't beat a community of drivers having each other's back.
5. Last-Minute Sleepovers
You're living in the moment, right? Well, that can be exhausting and if you need a place to lay your head for the night, Hotel Tonight hooks you up with cheap, last minute deals on hotels in your area. No need to sleep in the car or pull an all-nighter.
6. Let The Fun Come To You
It sucks having to map out your every move during a road trip. Along The Way shows you bars, parks, restaurants and more that are along the route you're traveling. Nothing wrong with wandering but this saves you a little time.
7. Pit Stop Parking Isn't A Struggle
Parking can be such a pain when you just want to get out and go explore new places. The ParkMe app is a great tool that shows you parking garages or lots close to whatever attraction you're trying to go to.
Prices are also included in the listings.
Surrender to the roads but take control of the memories you make there with a little bit of your own guidance.