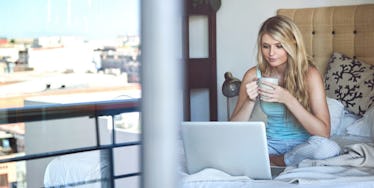 6 Scientifically Proven Ways To Increase Productivity In 2017
The new year is upon us, which means it's time to start considering our resolutions for the year to come.
If you're like most people, your success rate for achieving New Year's resolutions is probably pretty low.
Although you start out with the good intention to improve upon yourself at the beginning of the year, it can be hard to maintain enough motivation throughout the year to keep pushing toward your goals.
It might seem like you're stuck in a vicious cycle of failure to accomplish your goals year after year, but you don't have to be. Making several simple changes in your daily life and routine could help you increase your productivity and find more time and motivation to work toward completing your goals throughout the course of the next year.
Here are six scientifically proven ways you can boost your productivity to increase your odds of accomplishing your New Year's resolutions this year.
1. Let the light shine in
Psychology Today reports that a study by researchers at the Interdepartmental Neuroscience program at Northwestern University in Chicago determined that workers who complete tasks in natural light are more productive than those who complete their tasks in areas without exposure to any natural light.
The study followed a group of night shift workers as well as a group of day shift workers to identify how the presence/absence of light affects circadian rhythms.
Researchers concluded that a lack of natural lighting affected circadian rhythms to a point that caused lower quality of living and lower productivity levels for those who worked without natural light in the study.
Whether your goal is to workout more often, get more studying/work done at home, or simply to clean up around your house once a week, look for opportunities to add a little more like to  your work space.
Could you open up a few windows while you do your chores? Maybe you could take the free weights near a window at the gym and start lifting in the daylight?
2. Evaluate your internet speed
According to the Washington Post, cities with high average internet speeds were proven to be more productive than those with low internet speeds.
According to the report, cities that offer 1G or higher in internet speeds report higher per-capita GDP than those that lack high internet speeds.
If you think about how you respond to slow load times while you're trying to focus on completing research on a lengthy report, you probably understand why internet speed would have such a significant impact on productivity levels.
If you've noticed that slow internet at your home has caused you to take a few too many study breaks after breaking your concentration, it might be time to evaluate your internet speed.
The first step is to run a speed test tool on your device to find out how much speed you're actually getting from your current provider. Even if you know the speed number your provider told you they would give you, it's possible that you're being throttled and are actually receiving slower speeds than you pay for.
The next step is to find out how much speed you need to support all of the internet activity in your home. You can use an internet speed estimate tool to help you get an idea of how much speed you should sign up for to keep your internet running smoothly without running into issues due to overuse.
3. Find a friend when you need to take a break
Psych.org has reported that Sociometric researchers identified that employees who spent their lunch hours with larger groups were 36 percent more productive during the week.
The same study revealed that the same employees who engaged with larger groups during lunch were 30 percent less likely to become stressed when the company went through a round of layoffs later in the year.
In other words, the study showed that employees who spent their breaks socializing with a group of others were more productive and less stressed in their daily work lives.
When it comes time to take a break from studying, cleaning, or working on a project at the office, consider finding a group of friends or coworkers to grab a coffee or take a walk with.
Not only will this help you get the human interaction you need to clear your mind, decompress and be more productive throughout the day, but it might also give you the opportunity to get a fresh perspective or two on something your working on.
4. Work in 90 minute intervals
Whether you're lifting at the gym, doing chores around the house or working on a big project, research shows that humans are meant to spend no more than 90 minutes on a given task without taking a break.
This is because the circadian rhythm limits our ability to focus on a given task to a time period of roughly 90-120 minutes. This cycle brings us through higher and lower levels of alertness throughout the day which means our bodies find natural times where it is necessary to either rest and engage in activity.
Before starting on a new project, set a timer  for 90 minutes on your phone or use a time tracking app. Commit to working for the full 90 minutes then take about a 10 to 30-minute break when your timer goes off.
If you plan to take breaks with friends or coworkers, sync up your timers and plan to take your breaks at the same time throughout the day. That will make it easier to socialize during your breaks and also help you remember when it's time to remove yourself from your work for a minute or two.
5. Take your workout outdoors
Research shows that individuals are more productive after spending time outdoors.
Being surrounded by things like trees and rocks that are a part of a natural environment stimulate and inspire creativity and productivity while man made structures are unable to do so.
Why not kill two birds with one stone by taking a hike or a bike ride to get a little exercise during your lunch hour while also boosting your productivity for the rest of the day's task?
Plan to complete two or three of your weekly workouts outdoors and during a break in your work, studying, or chores each week. Even if it means something as simple as taking a quick jog in the park or completing your yoga in a good spot outdoors, spending more time outside can help you boost your ability to focus throughout the rest of the day.
Accomplishing your goals for the new year will be difficult, but a boost in productivity will certainly make the process a bit easier as you work to find time and energy for the activities that will bring you closer to achieving them.
Hopefully these tips will help you as you work to build an improved version of yourself in 2017!