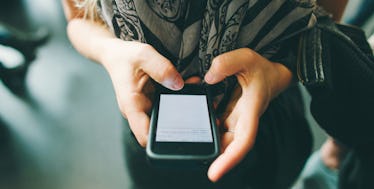 5 Ways The World Will Be Different When Generation-Z Graduates
Going away to college tends to feel like disappearing into a bubble, only to resurface on the shores of the "real world" a few years later. Given the rate at which game-changing products are being launched to solve age-old issues, such as access to sustainable energy and improved universal healthcare, the planet post-degree is bound to hold a few surprises.
With the recent commercialization of virtual reality headsets and the eagerly anticipated E3 expo right around the corner, several industries look set to evolve dramatically as a result of capitalizing on the affordable tools on offer. Research body CCS Insight estimates the number of VR devices alone will grow from the recorded 2.2 million in 2015 to 24 million in 2018.
So now that Oculus Rift has started shipping, we took at look at its impact and synonymous products are literally reshaping the world around us.
Where Will You Work?
Although businesses today operate transnationally and aspire whenever possible to offer employees flexible working conditions, the reality is that an overwhelmingly 84 percent of companies prefer face-to-face interaction over virtual alternatives, according to a Forbes study.
However, with the commercialization this year of VR headsets, there is now more potential than ever for businesses to re-explore networking, relationship-building and project management through the complete immersion in a simulated reality. Added to which, the growing sophisticated of virtual business accessories such as smartphone assistants and the increased interest in digitally transforming businesses by use of virtual tools and automation suggest that geographical locations will become irrelevant and the need for physical presence, truly debatable.
How Will You Shop?
It has been said on many occasions that brands and VR were made for one another. Plunging into a virtual world where a clothing or furniture label can offer customized retail experiences is an untapped resource for building customer loyalty, especially when paired with insights on consumer habits gleaned from analytics services.
The flexibility of VR will also dramatically improve the quality of online shopping, allowing customers to literally try on the items they'd like to buy in a virtual dressing room, all the way to walking through a virtual rendition of a house for sale that has not even been built yet. "Nobody is satisfied purchasing a house based on pictures," says Cody McLain of customer care startup SupportNinja. "VR has the potential to change how we make investments into property."
What Will You Be Doing for Fun?
Spectator sports and online gaming look set to be the two industries most disrupted by virtual and augmented reality. The sudden explosion of eSports is inspiring many entertainment industries to replicate the former's success by providing new, innovative and compelling entertainment for both participants and viewers. At this year's ICE Totally Gaming event, NetEnt presented a virtual reality slots experience with 3D sound which can be played on-the-go; PokerStars are currently developing a VR Texas Hold'em game that aims to be a "fully immersive three-player experience viewed using the mobile Samsung Gear VR headset."
This kind of commitment to push the limits and explore possibilities is what Global Poker Index's Alex Dreyfus claims to be the key to the industry's survival, with Dreyfus planning to build the industry's most wacky innovation yet: a 20-foot one-way glass room that will offer viewers the world's first immersive poker event.
How Will You Travel from A to B?
Move aside hoverboards; self-driving cars will be fully integrated on the roads by 2018, according to South African entrepreneur Elon Musk, who shot to fame for attempting to make space travel viable and making electric cars cool, and his company Tesla are already at stage two of a tripartite plan to create an electric car whose cost and engineering capabilities have mass-market appeal.
The Tesla Model S autopilot function has now been on the market for six months and is predicted to significantly reduce the 33,000 annual road fatalities in the US alone. By 2020, it is estimated that the number of self-driven cars on the road will reach somewhere in the region of 10 million. The daily commute might just never have been this cool.
How Will Future Medicine Work?
Perhaps one of the most incredible transitions taking place is within the medical profession. Earlier this year, the world watched the first intensive surgical procedure streamed live in virtual reality, while a group of doctors in Massachusetts Medical School discovered that once-scorned Google Glass is an effective means of providing emergency medical consultations by off-site specialists.
The ability to bridge the gap between medics and patients, if popularized, would have an immediate and phenomenal impact on individuals in hard-to-reach areas of the world as well, as cope with sudden rises in volumes at the site of natural disasters. VR also offers doctors an effective means of training when it comes to high-risk procedures, as well as more efficiently identifying illnesses, one of the medical profession's current stumbling blocks.
The pioneering technologies emerging at present are changing our everyday lives at a faster rate than ever before. We can expect basic services to be more customized, life-saving resources to be more accessible and simulated experience to be the norm. These new inventions are also hot-wired to be a driving force in consumer demand, meaning that while some may not stand the test of time, our world is already plugged into the commercial, social and emotional potential of virtual and augmented reality, past the point of no return.