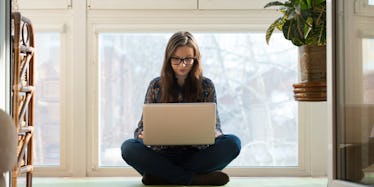 5 Things You Need To Know If You Want To Land Your First Apartment In NYC
Milles Studio
So, you decided to move to New York City. Big things ahead, right? Well, for those who are not used to big city living (especially big city living in one of the city-est of cities in the world), there are few things you must know before the big move to the Big Apple.
Here's your step-by-step guide to finding a home in New York City without losing all of your money and sanity:
1. The Hunt
First things first, start researching apartment listings. Apps like Street Easy and Zillow make it really simple to finely tune your criteria and find the place that's just right for you.
Coming from suburbia? Then you'll need to understand that NYC living spaces are not famous for their spaciousness. The monthly rent cost per apartment does not necessarily correlate to square footage, but to the area that it's in. This is true for a lot of cities, but it's especially true for New York.
2. Get Ready To Rumble
The next major fact about NYC apartment hunting is that it's highly competitive. Put yourself at an advantage against the competition by building a good credit score prior to the move.
In addition to having your credit score ready to report, bring documents with you that prove you can make rent every month and are a reliable tenant. This includes bank statements, pay stubs, tax returns and whatever will show the landlord you can pay up.
Sites like For Rent are a good place to find apartments for rent in NYC. Alternatively, you could hire a broker. Trusted brokers know which owners are friendlier to tenants who perhaps don't have the best credit history. And they often have the inside knowledge and access to the listings you might spend hours perusing through, many of which are fake or old. However, beware the dreaded broker fee.
3. Scope Out The Neighborhoods
With the search in full force, keep an open mind to different neighborhoods. Spend time in those neighborhoods instead of just relying on the hottest trends you've read about say, Chelsea or the Lower East Side.
Additionally, consider what's around the apartment. Is the closest laundromat within a walkable distance? Do you have a bodega or Duane Reade nearby to pick up some eggs or detergent, or more importantly, wine? You'll need to account for all of that.
4. Pay Attention To Detail
Pay attention to lease details when you hone in on top choices. Try avoiding apartments listed as "no fee." You may have opted out of using a broker (who does have a fee), but an apartment that is labeled as "no fee" kind of means it's more expensive. But if you're living baller status, by all means, go for it.
5. Sign The Lease
Once you've signed for your new digs, there are some experiences you'll encounter in the city that you need to prepare for. New York is not a cheap city to live in. You may have found a steal on your rent, but that doesn't mean you shouldn't monitor your budget. It's fairly easy to spend money in a city that has so much to do.
Whether it's Williamsburg, the Meatpacking District, Midtown or the Upper West Side, exploring all areas of New York City is highly encouraged. Not only because it's fun, but also because it'll help you get familiar with which area has dive bars, and which area will get a little more bourgeoisie with fancy cocktails. This will help you manage your budget.
Another major must-know is that New York City is composed of five boroughs. Memorize these: Manhattan, the Bronx, Queens, Brooklyn and Staten Island.
With lines to almost anywhere in the city, and a continuously running schedule, the subway will become your best friend. Know that MetroCards (the pass you use to ride the train) cost $1 just for the card itself, but are refillable. Don't pull a rookie mistake and throw a card away once the value hits zero. And not all entrances are alike. Take note of which ones are uptown and downtown.
Fair warning: Cockroaches and rats are pretty normal. You'll have to get used to seeing them scurry around. And water might drip from the air conditioner hanging out of building windows as you roam trash-bag lined sidewalks. Just embrace the city for what it is: a rodent-infested, beautiful, chaotic mess.
Now that you've gotten a brief crash course on moving to New York City, get ready to experience one of the liveliest cities to ever exist. It's a place filled with culture, cuisine and people from all around the world, and holds an unmatchable energy and hustle that'll make you proud to be a New Yorker.