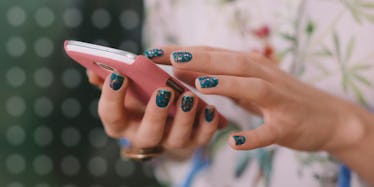 5 Instagram Accounts You Should Follow While The New Algorithm Rolls Out
Lumina
Remember back in the day, when we would ask all our friends if they had AIM? Making our "away messages" before school was a must, and asking our middle-school crush what his or her screen name was seemed to be the struggle of a lifetime.
My first screen name was "TotallyCrazy4U," and it still makes me cringe. "CrazyItalianGirl" came shortly after. Thank God that was all just a phase.
Those were much simpler days. Those were the days when I didn't have to hold my breath while I kept scrolling 62 weeks into my hot chemistry teacher's Instagram account. Yes, I said chemistry teacher. I am better at investigating than the FBI. It's a gift, really.
Today, everyone has an Instagram. People are even creating accounts for their adorable newborn babies and dogs (which I may or may not be guilty of). If you scroll through Instagram as much as I do, you're bound to come across some of those Instagram-famous people. You just can't look away, but you have no idea how or why these people have 9,603 followers.
Regardless of what you're into, here is a list of five famous Instagrammers who are giving me all the feels:
1. #EverythingGoals
This woman, tammyhembrow, is a flawless Australian mom who, even when she's seven months pregnant, is still goals AF. I'm pretty sure the only reason she has 2.4 million followers is her looks.
Look at how perfect her 1-year-old son, Wolfe, is. Oh, maybe another reason she's so famous is her booty-building program, which everyone seems to be obsessed with. Whatever it is, I'm still questioning why I can't wake up with her life and hunk of a husband.
You go, girl. Teach me your ways.
2. Fit, Thick And Damn Proud
Fitandthicktiff is a fitness guru who's all about motivating her 16,000 followers to embrace their curves. Her account is full of progress photos, meal prep ideas and her own workout videos.
In a society where everyone is obsessed with thigh gaps, this famous Instagrammer is all for thick thighs and loving her body, no matter what shape it is. If you're looking for some daily gym motivation while you're on your third row of Oreos, this account is honestly all you need.
3. Paging Doctor Grey
OK, I'm fully aware this account may not be for everyone. But I'm obsessed.
Mrs_angemi is a wife, mother and human dissector. This autopsy specialist is giving her 828,000 followers an in-depth look on what life looks like after death for the human body.
Her pathology page is full of real medical photos, and it's taken from a pathologist's point of view. Here, she explains what happens to the human body after death and dissection.
This account gives us a different perspective on what our bodies look like from the inside out. If you're fascinated with all things medical, this page will keep you up for hours while you're endlessly scrolling.
4. BRB, Sephora Trip
Yes, I'm fully aware there are a million makeup artists all over Instagram and YouTube. But this one has me doing a smokey eye when I just go out to buy toilet paper. This Los Angeles makeup artist has tallied up 820,000 followers with her unique looks, sick lip piercing and perfect makeup skills.
Ourfazinali is all about big lips, big sunglasses and even bigger lashes. What more could we possibly want?
She is currently creating her own lipstick shade — which I'm low-key fangirling over — since she is the only makeup artist I know who can pull off lip colors, such as mustard and turquoise, while looking like a bad bitch. Her makeup styles are so bold, they'll have you making your fifth Sephora run this week.
5. He put a ring on it.
If you're a hopeless romantic, this Instagram account will have you feeling both hopeless and romantic. Howheasked is the only site that will make you cry daily.
This page has over 1,000 wedding proposal stories. Half of this account's 442,000 followers swoon, while the other half wonder why their men aren't as romantic.
They also have a website, so all you #engaged and #blessed folk can submit your own stories. This account has the best #ringspiration, too.
These accounts will add a little bit of glam, motivation, romance and even gore to your Insta feed. Each one is worthy of a follow.