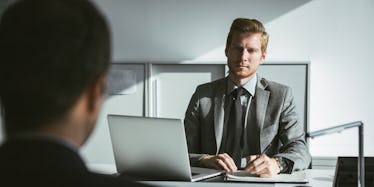 4 Ways To Stand Out At A Job Interview If You Already Have The Basics Down
We all know the steps of applying to a job opening. Write a resume, buy a suit, submit an application with a cover letter and send a thank you email after the interview.
It seems pretty simple, but the truth is, everyone is doing this, so what makes you stand out from the crowd?
Hiring managers get hundreds of job applications from very well-qualified candidates every day. The key to succeeding in getting a potential employer to look at your resume is to be different from the mob.
Instead of sending the classic, very boring cover letter and resume like every other applicant, invest your money and time in creating something unique that will showcase your talents and will make you stand out from the rest.
Here are some helpful tips that will help you get noticed by potential employers and possibly get hired.
Consider hiring a professional resume writer.
According to a new study released by TheLadders, hiring managers spend just six seconds looking at an applicant's resume. Your job is to impress them with your resume in those few seconds. If they don't like what they see at first sight, they won't spend more time looking over the rest of the page.
The study also suggests that 80 percent of the time spent looking at your resume, they are looking at your current and previous employment, the start and end dates of your employment and your educational background.
Create a digital portfolio.
Creating an online portfolio gives a candidate a huge advantage over those who don't have an online portfolio.
According to Forbes, 56 percent of hiring manager are impressed by an applicant's digital portfolio over any other form of showcasing their work.
In the new era, being able to navigate the digital world and being able to direct someone to an online portfolio is a must. However, only 7 percent of applicants have one. Having a digital portfolio to showcase your work will help you stand out from other candidates and will demonstrate that you are comfortable with the ever evolutionary technology.
Invest in a suit.
With the new wave of tattoo-friendly jobs and relax apparel trend, many jobs do not longer require to dress in a suit to go to the office. That's right. Maybe when you are already an employee you can have the luxury of not care about your attire, but that only applies when you already have the job.
When you are competing with others very well qualified candidates to get a job, you must wear a suit. The first impression is everything. Going to an interview dress properly in a suit is crucial. It sends the message to the hiring manager that you are a professional, and serious about the job.
Send a pain letter to the hiring manager.
A pain letter is a proposal for a business plan. You go over the business strategies of the company and plan a strategy to a deficiency you would like to improve.
If you really want to impress a prospective employer, send a pain letter. This approach will emphasize your interest in the company and will prove that you have taken the time to do a research on the firm. It will also showcase your skills and will answer the question of what you can bring to the organization.
You should also go back to the basics, and make sure you are following the proper steps to land a job. Be cordial, always shake hands looking at the other person's eye, watch your posture, watch your body language and pay close attention to the interviewer.
Remember to ask the right questions and smile. Good luck on the job hunting.