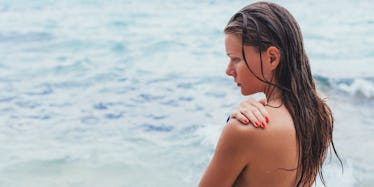 4 Ways To Escape The Monotony Of Life Without Quitting Your 9-To-5
Make money. Spend money. Work. Quit your job. Do Yoga. No, cross fit. Say I love you. Play hard to get.
Twenty-three is the worst year of your life. Twenty-three is the best year you'll ever have. Grasp the present. Plan your future. Be independent. Here are six ways to find a boyfriend. Travel. Settle down.
Severe restlessness? You could say that. How about an overwhelming number of opinions?
From what to eat to how to spend our weekends to the search for happiness and where to travel, us Millennials are an ambitious, yet indecisive bunch.
There is an opinion and a new idea around every corner.
How could we not endlessly think about canyon jumping in Interlaken or scuba diving the Great Barrier Reef when everyone is flooding social media with photos that coerce us to do so?
When it comes to travel aspirations and feeling as if we have "fully experienced our young adult years," restlessness is the disease.
And, everyone seems to be prescribing the same medication: Drop everything and go travel the world.
I'm not here to tell you to do that, nor am I here to tell you not to do that. I am here to tell you that you don't have to.
Settling in to a job, a city or a routine does not have to mean you are settling for less.
Here's why:
Be a nomad (with a home base)
Living in one place shouldn't confine you to that place. Wander. Don't go home every night. Go to neighborhoods you've never seen.
Don't spend every weekend in your city, even if it is "the best city ever." Get a tent and learn that you can sleep anywhere.
Being born and raised amongst a generation of kindred spirits and within a culture of nomads, there is no better way to find yourself than through travel.
I will never deny the motivation behind supporters of "drop everything and travel."
We are indeed too young, too capable and too curious to settle for the same bars every night, hungover, groggy mornings and sticking to the familiar.
We have too many aspirations to simply look longingly at Pinterest boards and gawk at friends' Instagrams while sitting at a desk.
But, for most, this "all or nothing" stance does more harm than good. Start small and wander around your neighborhood. Take road trips and camp nearby. Learn what you like, then do more.
Friluftsliv (go outside)
Do you recall your parents ever nagging you to go outside? "It's good for you!" they'd say, as you'd wander back into the living room to turn on the TV.
The Norwegian's have this word, friluftsliv, which has grown on me as I've grown older. (I know, I can't pronounce it either.) "Open air life" is the most basic understanding of this word, yet it hardly does the ideology justice.
Friluftsliv means being outside is the key to your mind and spirit.
Friluftsliv is independence and freedom.
Friluftsliv means continuously gaining new experiences. It means full-time, comprehensive education and exploration. It is about making connections and finding opportunities.
It is all about doing self-experiments. Try something knew; figure out what you do and don't like. Try something else.
Be a local traveler
What is travel? It is butterflies in your stomach. It is excitement for the unknown.
It is anxiety for what is ahead. It is natural and cultural beauty. It is not a specific city or county, a specific price tag or distance. It is especially not a photo.
Whether near or far, you can reap these benefits. Before deciding to "buy yourself the next ticket to anywhere," find an interesting destination (the Internet is your best friend) and grab a bike, rent a car or hop on a bus.
This new perspective, refreshed outlook on the world and unexpected experience is closer than expected.
If you are settling in, don't feel like your young years are doomed.
Just because you can't jet off to the tip of South Africa for the next two months doesn't mean you have fewer ambitions and adventures ahead. Travel local and look for more.
If done correctly, you can travel every week — no, every day.
From backpacking the Rockies to surfing Winchester Bay, you can find solace and vivacity by simply pushing yourself outside of what you know. Weekend trips are one of the most valuable things we are capable of doing.
Take advantage of your time off and head somewhere new.
Don't confine yourself to one place
I am generally the first one to be swayed when it comes to travel. Drive the length of Patagonia?
Get me there. Witness the floating markets of Ho Chi Minh City? Incredible! Camp under the New Zealand stars? I've had the most vivid dreams of this.
But, just because I can't drop a few hundred dollars to head thousands of miles away doesn't mean awe-inspiring and letter home-worthy experiences are out of reach.
Let's use San Francisco as an example: Did you know there are campsites underneath the Golden Gate bridge?
Or that there is a rentable converted fire lookout in the middle of the Tahoe National Forest? How about the fact that there is a piece of the world's most untouched coastline within a day's drive?
Every now and then, forget the value in your routine and leave. Forget Sunday brunch and sleeping in.
Do your research. Get in your car (or rent a car) and go somewhere new. Camp anywhere you can. Wander aimlessly. Do something new.
Settle in. Don't settle.