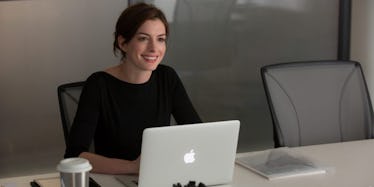 4 Simple Things To Ask Yourself Before Quitting Your Job And Chasing Your Dream
Warner Bros.
More than ever before millennials have been writing the pages of their life story by walking away from comfy office positions to pursue their passion.
The idea of stepping outside of your comfort zone is frightening for many, but the sad part is people that settle for anything will continue to live unhappy lives. After all, we spend more time at work than we do at home and we need to choose a career that is fulfilling.
In a recent 2016 Deloitte Millennial Survey, the company discovered that "regardless of gender or geography, only 28 percent of millennials feel that their current organizations are making 'full use' of the skills they currently have to offer."
If you are counting down the hours for work to end or you spend more time thinking about a dream job, read on.
1. You are not receiving recognition for your efforts.
It is possible that you are unhappy and feel that you are in a dead-end job. You have been waiting for recognition for quite some time and keep being skipped over by people that have less experience than you. Have no fear. There are many opportunities out there and now is the time to make a change.
Once you figure out a career that will make you happy start to write an effective resume. If you had a journalism degree and worked as a news writer, you can easily tailor your resume with experience in a completely new position. Don't think in limitation because the world is your oyster and even if you must move across the country to pursue your passion, you will look back in the future and be happy that you did.
2. You keep getting rejected for a promotion.
One of the signs, when it is time to take the leap, is you constantly keep applying for a new position and told that you're not the right fit. If you have been working in a company for more than five years without an opportunity to move up the ladder, you must ask yourself if the organization is right for you.
The truth is after five years; you should experience a lateral move. While it is easy to blame the company we all need to commit ourselves to career development every year.
3. Your part time business has become a full-time fortune.
Moonlighting has its advantages and disadvantages. While most employees are watching television, or hanging out with friends after work, a part-time business is a way to get out of the rat race. If you are doing this to an end to employment and business is becoming overwhelming to manage, it is time to ask yourself, "is my business making me happy? Do I make enough business income to leave the corporate world?" If the answers to these questions are "yes," you need to run like the wind. Don't spend one more second of your time doubting your ability to be a successful entrepreneur.
4. You have outgrown your current position.
Let's face it. If you have been working at a company between five to ten years, there is a chance that you are overqualified for your position. Here are the signs:
You have more friends in the C-suite than in your department
Opportunities for you to help the management team keep coming up
The CEO or president of the company depends on you even though you don't directly report to them
The job postings at other organizations are enticing, but out of fear you do not apply
It is a time to celebrate when you know your skills can be used elsewhere. If you took the time to upgrade yourself by taking career-related courses and networking, you should make the most of yourself and follow your passion. Remember, it is your birthright to live the life you always dreamed. It essentially will be up to you to make the change.